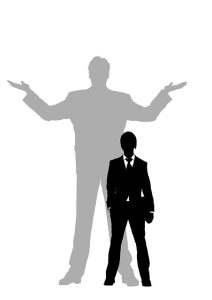 In business we sometimes want to give the illusion, or impression, that we are larger than we actually are.   We may well be a home based business where you are the one and only employee, but you don't want your customers or prospects to know that you are a 'one man band'.    Perception is everything, so give the right impression.  It's not hard to appear larger than you are.
Make 2017 different for your business!
Here are a few simple tips on how to appear larger in business than you are:
Be GST registered.

If you are not, we all know you earn under $75K a year and therefore are pretty small.   If you earn under $75K, it's optional to register.   Yes, I understand you now have the burden of BAS lodgements, but weigh up the pros and cons.  How important is the perception you are not a tiny business?   Will your ideal clients go elsewhere because they perceive you as a 'small fish'?
Register your business name.

Choose your company name carefully and make sure it suits your business in the long run. Think about your plans for growth.    I call myself Donna Stone Business Coaching and will never have coaches working under/for me … but if my plan was to have a team of coaches, then I would struggle to grow in this way.   Think about your name and your end game.
Have multiple email addresses; such as assistant@ or sales@ or admin@ or support@.

They might all come to you, but it does give the illusion of having multiple people.  Please also, have a professional email address linked to your domain name, such as donna@yourcompanyname.com.au not a Gmail, Yahoo or Hotmail account; that really sends the wrong message, rather than being larger, professional and soundly established.   In all cases, ensure you (and your staff) have professionally created email signatures.
Get a PO Box, especially if you are home based.

It not only affords you some privacy (you may not want everyone know where you live) but also gives that illusion of professionalism.
Get a toll-free number with professional voice system.

Having a 1300 or 1800 number and making sure that no calls are left unanswered gives the impression that your company is larger than it is.  For this reason, often using an answering service is great; just be selective which one.   Some sound like an answering service manned by bored and disinterested personnel, which is probably not the impression you want to give.   Be sure to trial any service yourself and even when you use a service, test it every so often to ensure it's working well.
Have VOIP phone system.

You can even have different call options, dial 1 for John, 2 for Mary, 3 for Jane or 4 for Roger. Maybe you are John and there is no Mary, Jane or Roger … but who will know?   Alternatively you can have sales, admin, customer service as the options and all options come to you.
If you have virtual staff, set them up with business emails and business email signatures.

Anything they do on your behalf is then consistent and professional in appearance. Whilst your staff may be virtual, casual or part time, or perhaps even work from home, the illusion should be otherwise.
Work on your online presence.

Your website must look professional and easy to navigate. It should showcase your products, and services that you do well.  It must be regularly updated with new contents and blogs.  Linking your company's social media accounts to your website would be beneficial, too.
Don't use your home address.

Using your home address as your company address gives the illusion that you don't have an office space. You can either use a virtual office, or pay for a PO Box address, which also ensures your privacy.   If you have meetings and they cannot be at your client's premises, then hire a room or service office.
Concentrate on one industry at a time in your marketing.

Focusing on one allows you to appear in all industry events in that market.  You will most probably meet the same people and will give them the illusion that you're everywhere.  Once established in one area, you may choose to move to another and grow your connections.
If you're small, but slipping behind and struggling with work, hire a freelancer.

They can help you behind the scenes so that you appear organized and on top of things, even if you are flat out and are in fact a 'one man band'.   There is no excuse for slackness, even when you officially have no staff.   How quickly you respond will impact on your reputation.
Having said the above, don't be immediately available.

If someone wants to book you in an hour "I'd love to see you, but I'm booked solid this week … although I do have a one or two times free next week".   Again, it's the illusion.   If you are available at the drop of the hat, people are going to wonder why you are not busier.
Learn and make use of technology.

Use digital resources for your business, be it marketing, accounting, or project management. There are a lot of tools online that you can use to make your life easier, such as Trello, Xero, Wave, Perch, Appointlet, StickyTickets and many more.
Get your business cards and flyers professionally printed.

Printed on the home computer (I don't care how great your printer is) just screams out small/beginner/unprofessional.    Use that 1800 or 1300 number again, but if you want to appear approachable, then also include your mobile number as well.
Dress professionally.

Make sure that you dress like a million bucks to impress your clients, if that's the impression you want to give. It all comes back to your branding and what message you want to come across.   Professional or fun or approachable or traditional?   Everything your prospects hear, see or read should be congruent with the overall message you want to send.
Use power words.

Using the word "we" instead of "I" or "me" will give the impression that you are not working alone and that your business is in fact larger than it is. You may also want to use the word "established" as it is more pleasant to hear and it will be easier for your clients to have confidence in you.
Have citations created for your business.

Create listings on directories such as Foursquare, Yellowpages, Truelocal, Hotfrog, etc. When your clients want to find you, they will look online and having your business listed in these sites will give the impression that you have a large company.  Absolutely ensure your LinkedIn profile is current, professional and well written; this is often what comes up early in a Google search, so make sure you are giving the best impression possible.   Again, in your profile summary, use words like "We" rather than "I".
The more the better.

If you have worked for any large companies, then be sure to have their logos (with permission) or testimonials present.   If you've worked for some big names in business, then other big names in business will be impressed with that.   The art of name dropping is in no way dead.
I work with small to medium sized businesses as a professional coach who has a passion around business success.   If you'd like to know more visit www.donna-stone.com.au or call me at 0411 622 666 to book in a complimentary consultation.   I don't employ other coaches; when you work with my company, you get me and my 30+ years' experience.