No Stone Unturned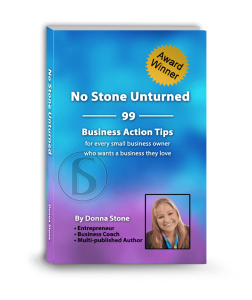 In Donna's sixth business tips book titled No Stone Unturned, she shares even more with her readers.  She provides new, fresh and practical tips which will have you thinking, motivated and ready to make positive changes in your business – big or small.  Encompassing money, marketing, sales, staff, processes, customer service, and so much more, her 99 concise and real-world business tips will give you effective strategies you can implement immediately.  No Stone Unturned is great for the new business owner, or the owner which has been around a while but believes there is always something new to learn, or perhaps even as a refresher and reminder or fresh perspective on what you should be doing.
Those in business, or going into business are often very good at what they specifically do, whether that's a professional, a tradie or a medical practitioner.  As a very experienced business coach, Donna has found that whilst you may be great at your job (ie a great technician) some business owners need a helping hand and guidance around all the other aspects of the business.  We wear many hats and there is much to learn when it comes to running a successful business.  Even if you engage someone to perform many of the tasks for you (such as a bookkeeper or marketer) you need to know enough on the subject to ask questions, focus the direction of your business activities and ensure all your team or service providers are on task and doing what they need to do.  It's great to surround yourself with an excellent team, but if you're in the dark, how do you know they are excellent?
In this book, Donna uses her 30+ years of experience and leaves No Stone Unturned when it comes to showing you how to have a business you will love.
$32.00 with FREE Postage within Australia
Some great Testimonials about this book
Donna has done it again and left no stone unturned in this great book for small business owners. The book is jam packed with really practical and insightful business tips which Donna has gleaned from 30 odd years of business ownership and business coaching.  Practical, easy to understand and actionable tips which covers all areas of your business. Enjoy!
–  Sean Hinson, Principal Advisor – Wealth Developers Pty Ltd

No Stone Unturned is a must for business. We deal with a large variety of businesses and most could benefit from the tips in this book. Some tips are obvious but frequently forgotten. Others are complete gems even I hadn't thought of. Quick, easy, bite-sized tips are now collated in a single, easy to read book. Take one onboard each day and watch things improve in your business.
–  Tori van der Donk,Managing Director – Aegis Bookkeeping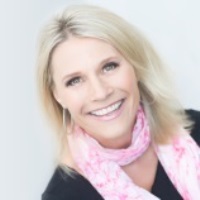 Loved this book! This is your best yet! I am able to take something from each of the 99 tips! Every time I pick it up I am inspired to take action in my business. Donna has a special and unique way of connecting to you and your business as you read her 6th book. It is like you are right here with me. No Stone Unturned is a must have resource for every business owner who desires to succeed and make an positive impact with their message.
–  Jules O'Neill, Wellness Coach
Only $32.00 with FREE Postage within Australia
Don't have a PayPal account? Easy, just download this order form to pay via EFT, MasterCard or Visa. Alternatively, you can email donna@donna-stone.com.au to order a copy.