If you're running a business, then most likely you're in sales!
In this very interactive and hands-on training workshop we will cover:
The psychology of sales
Improving your sales process in real and practical ways
Becoming more effective, whilst saving time but without going into 'hard sell' mode
Getting more prospects 'over the line' and avoiding critical mistakes
Dealing with objections and other sales challenges
Being more comfortable and confident (and better) at sales.
Date:         Friday 10th May 2019
Time:         8:45am Registration.  Sales Training Workshop 9am to 12pm
Place:        Boardroom in Victoria Point (specifics provided at registration)
Included:  Training, morning tea, handbook and practical expertise shared.
RSVP & Pricing:
$297 per person (inc GST)
$247 per additional person (inc GST) from the same organization (same invoice)
For 'group booking' (2 or more), contact me direct for special pricing at donna@donna-stone.com.au.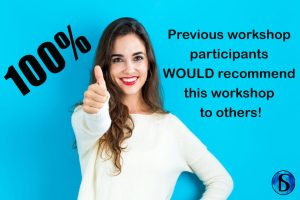 To book and pay:
Ring or email Donna direct:
0411 622 666
Numbers are strictly limited.
Make a change; book today!
If you're interested in upcoming events, the date doesn't suit you or you missed the spot, CLICK HERE to be added to the mailing list to get updates as they become available.  To learn more about other Training Workshops, check this page.
Testimonial

The course (Sales Training Workshop) gave me a lot of help and made me believe that I am doing a good job as I don't like to blow my own trumpet!  I went back to my office and immediately started to write up a dot point info sheet for my team.  We had our first meeting and the information was well-received, with your booklet and training making things simple and easy.  Many thanks!
–  Charmaine Pryke – Corporate Sales Manager, Nursery Traders