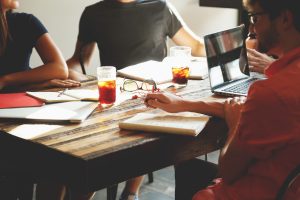 Planning and Strategy are your first steps to setting yourself up for success.  The beginning of any great action is a solid and well thought out (and documented) plan.  Couple this with a great strategy and a solid business plan and you will be set to have the foundations of a great business.
For new business owners, there is often the temptation to just jump in.  You have a business idea and tonnes of enthusiasm, so you jump in with an idea in your head and lots of enthusiasm.  Love the enthusiasm, but let's match that up with thoughtful planning.  I have worked with a number of business coaching clients and I frequently get them to do a business plan.  It's not about simply ticking off a list that it's been done, but the value you get from the process.  Sometimes the feedback is that it takes so much time, or it's asking for a tonne of information.
The thing is that when you delve and dig and start communicating really clearly (in writing) suddenly you may find yourself considering aspects you haven't thought of before.  Sometimes even someone will ask me what something means and then admit they don't do that.  The reason that banks, governments, grant fund providers and investors like business plans are that it shows:
You've given thought to your business.
You are prepared to invest time in the preparation and planning stage of your business.  If you're not prepared to take the time to set things up right, why should you be taken seriously?
You are going in with eyes wide open; you've done your SWOT and Risk Assessment segments and have a plan for the good, the bad and the potentially ugly.  Things do go wrong in business all the time; it's being prepared for those scenarios that really does make the difference.
You are business savvy; you know the importance of strategy and ensuring you're on the right path – akin to going on a journey with a GPS (or if you're old school, a map or Referdex).  When you don't have a plan, don't have a strategy and really don't know what you are doing (business-wise, even if you know what you do product/service-wise) then financiers and banks know that success is less likely; it's a statistical fact.
When you document something (whether your plan or a system or process) quite often as you sit down to do so, you realise that the plan or process can be improved.   You then improve and continue with the documentation; so even by simply documenting your business plan, you very likely will be improving it as you go.
Goals are not achieved overnight.  Strategic planning means that you're putting plans in place for tomorrow, next year and even the next decade.  When I wanted to expand my prior business into Sydney and Melbourne, I began work on that 2-3 years prior, starting with building databases in the local area and getting branding out in those regions.  By the time I was ready to 'land' people recognized me, my business and my brand.  How awesome is that!
As an expert multi award-winning business coach, I can assist you with:
Business Planning & Strategy – either as part of coaching, or as a Planning Session.  To learn more, click here.

Business Analysis.  Whether it's an audit of your marketing message (including a review of your online profiles, website and marketing material) or reviewing your financial reports – then I can assist you.  This can be a stand-alone service or part of your ongoing coaching.  Click here.

Business Plans.  Need assistance with your formal documented Business Plan?  I can definitely help you get this document on track along with some great solid advice.  To learn more click here.