Magnificent Marketing – For Small Business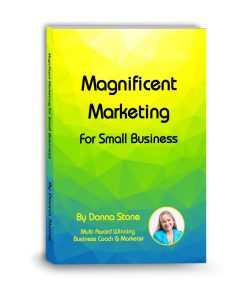 Once again, Donna Stone shares her decades of experience (coupled with formal qualifications) and solid experience from her business coaching practice to bring a wealth of knowledge and tonnes of practical tips to her latest book Magnificent Marketing – For Small Business.  It contains almost everything a small business owner needs to know about marketing.  Whether you're outsourcing your marketing or doing it yourself being in the know will make your life so much easier and the results so much more effective.
For such a tiny investment, this book will give you awesome ROI (Return on Investment) and will be an essential resource for any small business owner or marketer who is keen to learn, improve and see positive results.
$33 (inc. GST & P&H within Australia)
Donna covers:
Fundamental & Essentials of Marketing

Knowing Your Business, Customers & Competition




Strategy & Planning for Magnificent Marketing




How to Implement Your Plans




Marketing Life Cycle




Branding & Perception




Allocating Resources including Budgets




Lead Generation Ideas – more than 250 of them!




How to Create Content




Websites, Online Listings & Backlinks




Search Engine Optimization (SEO)




Social Media




Video Marketing




Email Marketing & Blogging




Google – GMB, Google Ads, Analytics & Keywords




Relationship Marketing




Tracking your Leads & Lead Sources




Your Sales Process **




Customer Service **




Customer Retention **
** These last three segments were included, as marketing really doesn't stop the moment someone chooses your service or buys from you – marketing is ongoing.
Donna has crammed a huge amount of knowledge, expertise, information and tips into just over 200 pages.  This book is ideal for micro, small and medium-sized Aussie businesses and it's written for the owner in easy to read English.  Even the most experienced business owner will experience 'lightbulb moments' and crucial reminders.
Only $33 (inc. GST & P&H within Australia)
Don't have a PayPal account? Easy, just download this order form to pay via EFT, MasterCard or Visa. Alternatively, you can email donna@donna-stone.com.au to order a copy.