Here are some free items and resources that Donna shares with you. This is updated with new items (resources, materials, lists, checklists) from time to time. You'll definitely find something that is applicable to you.
175 Business Improvement Ideas
As an experienced business coach, I always want to find ways to help business owners improve.  I have come up with a nice extensive list to get you thinking.  Only try to implement one or two at a time as doing many things at once will usually result in nothing getting done or getting done well.  Email assistant@donna-stone.com.au for your list.

FREE Support from CCIQ for QLD Businesses
CCIQ (Chamber Commerce Industry Qld) has been incredibly helpful since COVID-19 hit Australia with heaps of free information, webinars, resources and support.  If you aren't already a member and are interested, they offer a private and confidential FREE HR Health Check which you can book via BOOK NOW – FREE HR Health Check.  This is a great opportunity to help identify possible risks within the business or areas of concern they might be unaware of. 
I am proudly a member of CCIQ (as well as my local Chamber) and encourage you to join CCIQ if you are Queensland based.  Support the industry body that supports you.  Visit this page.

Psychologists & Counsellors List 2021
If you're feeling flat, blue or depressed, then it can help to reach out and talk to someone.  Purely as a community service, I'm posting a list here of some people (Brisbane region) you could contact.  There are also some links which might prove helpful.  If you're feeling unhappy about your business, then I can help in very practical ways with business improvement, but sometimes more than business advice is needed and so I'm leaving this list up here indefinitely.  Taking a copy of the list is entirely anonymous.   : )

275 Lead Generation Ideas
Here is a whole list of ideas to implement in your business. Pluck just five of these that you are not doing and implement them. I assure they will increase your leads, and if you convert your leads to sales, and watch your figures, then your bottom line is going to grow like the smile on your face.  Email assistant@donna-stone.com.au for your list.

Business Checklists & Templates
Free to all current clients of Donna Stone and Stone Business Coaching.  If you are a client and would like your copy, just email me at donna@donna-stone.com.au or alert me during one of our business coaching calls.  Other resources for clients include: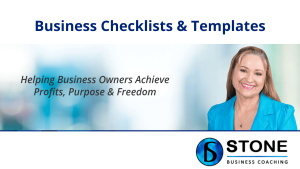 Budget templates
Business Plan Template
Business Systems & Procedures Template
Covid & Government Business Support Information
How to eBooks on subjects like budgeting, time mastery, stress management etc
Online website listings and backlinks – for Australian websites
Key Performance Indicator Lists
Marketing Ideal Client Avatar
Marketing Plan Template
Meeting Management Tips
New Business Checklist – 5 Pages
Presentation Tips
Recommended software and Apps
Recruitment forms, documents, templates and tests
SWOT Analysis Worksheet
Tax – Possible Deduction Items … and much more.
Free Cash-Flow Manager Spreadsheet
Now is the time more than ever to be 'all over' your figures.  Check out my blog where I explain how to have a better hold of your finances and be more effective with money management.  As promised in that blog I'm providing a free resource, being my Cash-Flow Management Template.  If I can assist you with any Business Coaching, please reach out to me on 0411 622 666 or fill in my contact form and I'll contact you.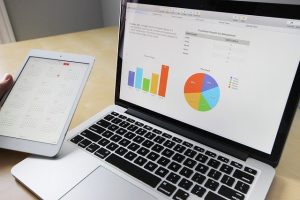 99 Practical Way to Save Time
We all have 24 hours in a day, 7 days in a week.  Need more time?  Check out 99 practical and real ways to save time in your business day and personal life as well.  Read here.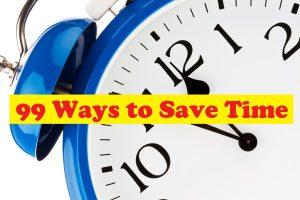 Donna's Suggested Reading List
Take a peek at Donna's list of books to read.  Click here.
Government Fact Sheet for Australians on GDPR Compliancy
To get information, click here.
Planning for Success Podcast
Listen to this podcast http://www.speechperfect.com.au/episode-27-discover-how-to-realise-your-dreams-by-planning-your-success/ (copy & paste link to browser)  I made with Janeen Vosper of Speech Perfect talking about Discover How to Realise Your Dreams by Planning Your Success.

300+ Deductions for Small Businesses
Click here to get your free list now!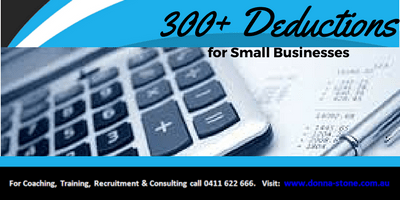 Top KPIs Every Business Needs
Email me at donna@donna-stone.com.au to get this for free!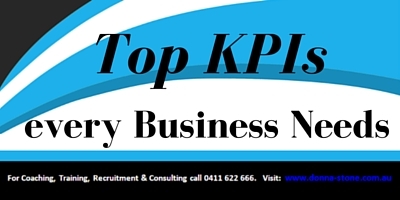 Financial Year End Checklist
Email me at donna@donna-stone.com.au to get your free copy of Financial Year End Checklist!