Packed full with over 300 NEW tips on how to grow your business, this book is a must read for anyone in business wanting to take the next step. It's perfect for business owners, managers and event business coaches and accountants. I use my nearly three decades of real life experience (plus some formal training) to cover everything you could possibly want, including: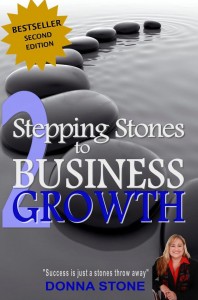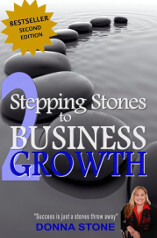 Business Development & Growth

Customer Service

Financial Stability – Money Matters

Industrial Relations & Employment Law

Networking & Public Speaking

Sales & Marketing

Social Media & Technology

Your Staff

Systems & Processes

Time Management

And a chapter especially for YOU the business owner
Only $25 + $3.00 P&H
Don't have a PayPal account? Easy, just download this order form to pay via EFT, MasterCard or Visa. Alternatively, you can email donna@donna-stone.com.au to order a copy.
In the same format as Stepping Stones to Business Success, the delivery is in a simple to read, in conversational English which is not overly technical or complicated. Designed to be read by one and all, its delivery makes it not only informational, but pleasant and comfortable reading. The tone is always positive and motivational.
My experience spans both accounting, bookkeeping and human resources, and having run my own multi award winning business for over 12 years, I'm writing from a point of expertise; not just from my formal qualifications, but having worked out there in the 'real world' for so long. This book is the second in a three part series, called the Stepping Stones Series.  I am not new to writing, I have co-written a number of books plus have had dozens of articles published with My Business Magazine and Working Women Magazine.
Already book two titled Stepping Stones to Business Growth has received rave reviews, including:
Having been in business as a CEO for now over twenty five years, it always amazes me how some of the really simple common sense things get missed in business.  Donna's book makes sure that these simple things are presented front and centre in simple, easy to understand language….In short, this book is a must read for any new business owner, and a "definite must read " for us …well let's say, more "experienced" business owners. ~ Richard Norris – Site Zero
Great advice for a fast paced world! Donna always has little pearls of wisdom to make doing business easier and more profitable! Fully implement just one step a day, and watch your business grow! ~ Glenn Walford, Creator of Shaking The Profits From Franchising
Bridges the gap between theory and reality in small businesses today. Steps that can be used right now with immediate results. A must read for every rookie small business owner. ~ Jon Hui, Bank of Queensland Owner-Manager Manly, QLD
What an abundance of knowledge Donna has! No matter what stage your business is at you will definitely take plenty away from this treasure trove. A great way to build/revise the foundation of your business. Keep them coming Donna 

 ~ Stefan Floratos – www.cloudbackup.net.au
Following on from Stepping Stones to Business Success, the inimitable Donna Stone has once again provided us with an easy to read how-to book focusing on business growth. Donna's easy straightforward style and refreshing lack of jargon make planning for business growth a breeze as she takes us step by step through the tips and strategies she has used with great success herself.  A must read for anyone in business. ~ Karen Phillips, Direct Office Products
I'd recommend "Stepping Stones" as there are many tried and proven, simple tips that Donna has brought together in one book to help inspire and motivate the reader. Donna has an easy to read style which makes the book enjoyable whilst imparting many invaluable ideas. ~ Ken Ewald, General Manager, Western Pacific Financial Group
Wow Donna! I thought you did a great job with your first book. Who'd have thought you could cram so much more into book 2? You've really hit all the bases. This is a great handbook for anyone wanting to grow their business. Congratulations! ~ Rob Lovett – Elite Carpet Dry Cleaning.
Donna is a mum, fantastic public speaker, great networker, mentor and has 25 years business experience to share. I think she is someone who needs to be listened to! Donna's first book gave me lots and lots of new ideas for my business, which now I'm implementing and seeing change. It's for this reason that I highly recommend you read Stepping Stones to Business Growth! ~ Lisa Chelsom, Beauty Salon Owner, Skin Naturelle
Little concern or care is afforded in small business as it intertwines its way through the mire of everyday business, especially through difficult times. As someone with extensive experience I have seen some close down, some go bankrupt and many struggle along. This sensible and practical, in the hand, book of advice is based on a wealth of qualified experience and is engaging to all its readers. ~ Adelia Berridge, Style Wise Furnishings Pty Ltd
"If you want your business to thrive, be congruent and in integrity, then make sure you are moving forward following Donna's 'must dos' for business success. Stepping Stones to Business Growth… Works!" ~ Dr John Hinwood – Author of International Bestseller You Can Expect a Miracle… The Book to Change Your Life and Founder of Expect a Miracle School
Donna has done it again by giving every business owner the opportunity to benefit from her extensive business experience.  A sure fire hit for the budding entrepreneur as well for the advanced practitioner.  No wonder Stone Consulting over the past 10 years has been a multi award winning business.  We have no hesitation in recommending Donna & her brilliant new book "Stepping Stones to Business Growth" to all business people serious about "making it" in the world of business. ~ Doug & Julie Bannister, Key Business Network
There is so much to do when you are in business. Knowing how to grow your business is very challenging but with the ideas presented in 'Stepping Stones to Business Growth', a person is able to build the blocks to grow efficiently & effectively. Well done Donna – great practical and useful ways to grow your business. ~ Peta Townsend, CPD Accountants
As an independent business owner I'm a firm believer in knowledge is power.   I find Donna's writing style straight to the point, practical, easy to follow and more importantly easy to implement. Her tips are pro-active and some just made me laugh.  This book applies to all business owners and is a good reminder of the simple things that can make your business excel. ~ Lynne Sturgess, Finance Specialist – Precision Loans
Don't have a PayPal account? Easy, just download this order form to pay via EFT, MasterCard or Visa. Alternatively, you can email donna@donna-stone.com.au to order a copy.