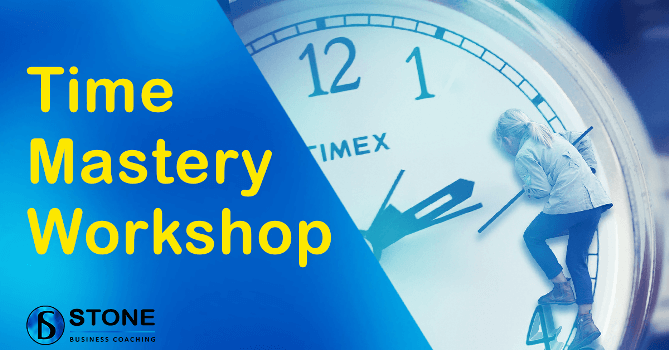 Maximised Time Management and optimum productivity has a positive impact on every business.  Time is a resource we often don't value enough.  Waste can occur through a number of reasons around human resources, particularly around time management.  In this 3-hour Time Mastery workshop training course we will cover off on:
Performing a time audit
Identifying the time vampires
Mindset around change and improvement
Being effective around emails
Delegation (done the right way)
Saying no
Being efficient and effective
Use of technology
Maximising systems to improve efficiency
Simply put – getting stuff done!
This Time Mastery workshop will be excellent for employees, managers, owners, workers … anyone in a work or business environment who want and need more time in their day.  One client (the business' BDM) I work with saved TWO hours in every one of his days; he now has two more hours available to sell.  Another client (with 5 business owners) each saved 1 hour per person per day.  That's 25 man-hours every WEEK they saved.  We all have room for improvement … come and see how.
Date:          Friday 30th August 2019
Time:         9:00am to 12:00pm (registration from 8:45am)
Place:        Boardroom in Victoria Point (specifics provided at registration)
Included:  Training, morning tea, handbook and practical expertise shared.
RSVP & Pricing:
$297 per person (inc GST)
$247 per additional person (inc GST) from the same organization (same invoice)
To book and pay:
Ring or email Donna direct:
0411 622 666
Numbers are strictly limited to a maximum of 6.  Small group = better value for you!
Make a change; book today!