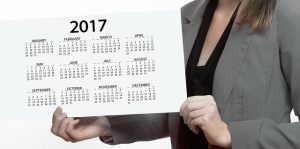 Every year around this time there is a strong focus on business planning and preparing for next year.  Online you will be frequently seeing "Make 2017 your best year ever!"   It makes sense; we are coming to a close of one year and it's an exceptional time to take stock, review, and plan for the upcoming year.  Though, I must say that I wonder how often people do make a change in what they are doing?
Interestingly 95% of New Year's resolutions fail by Valentine's Day!
This is a sad fact, that often goals are not achieved; there are many reasons.  That 95% does take into account personal goals as well, such as losing weight or stopping smoking, however, from a business perspective, let's have a look at some reasons business goals fail and let me ask you some pretty relevant questions.
Make 2017 Different for Your Business
How committed to your business are you?

This is not a dig, it's simply a question.  I come across some business owners who are not fully committed to their business; so if you are not fully committed, be honest with yourself about this.  Some people are running a business whilst their highest priority is being home with kids, or have a part time job and not really ready to invest in a serious change into their business, or even serious time.   Their 'job' is their primary income earner, so they focus and concentrate on this primarily.  For others, they have too many fingers in too many pies.  I should point out that we improve, change and grow what we focus on.   My question here is what are you committed to and what you are focusing on?
If you want things to change, are you prepared to do the work?

When I work with clients as a business coach, I work hard, and so do they.   Yes, they get homework and extra tasks, not to be 'busy' but to make a difference.   The tasks really depend on the business, its owner and the situation, but I can assure you that if you work with a business coach, you will be doing more work. A coach will certainly guide and help you, but they are not the person you delegate everything to.  You need to be prepared to step up and take ownership of what is happening in your business and in some cases that might be doing more work.  However, the important thing is that you are busy on the right tasks.
Do you have a plan?

A good friend of mine married recently; she was planning for months and months and months.   When you go on holidays, you plan and put in place an itinerary.  Do you plan in your business?   Your business is really important and yet so many business owners fail to plan.   They simply are reactive and frequently putting out fires or wondering why things are slowly but surely shrinking.   Have you watched a competitor business come in, and really give you a strong 'run for your money'?   You look at their product or service and think it's not better than your own (or perhaps less so) but they are moving ahead in leaps and bounds.   Is that due to luck?   No – it's due to having a strong plan in place and actioning that plan.   Most likely they will have an overall plan in their business and specifically plans around marketing – even broken down to precise planning in specific marketing areas, such as a social media.
Do you believe improvement is only about sales and marketing?

No!  Improving a business can certainly be about more leads and more sales, but also about how that business handles extra sales by making sure that all aspects of delivery and the back end of the business is running smoothly.   So if you want to change 2017, then expect that change to be not limited to only the sales and marketing aspects of the business.   Improving many other aspects of your business, including operations, admin, finance, customer service and delivery all go towards making your business a better, more efficient and more profitable venture.
Are you prepared to spend money to make money?  

Whilst there are some very affordable marketing options, reality is that quality marketing costs a level of money.  It doesn't have to be a mega amount, but it does have to be something (even in the form of time).   If you are not prepared to spend any money or time, then sorry, it's going to be hard to make anything change.   That expense may also incorporate implementation of technology, buying equipment, new staff or even upgrading your signwriting.   Perhaps if we call these costs 'investments' rather than 'expenses' it may be more agreeable to your mindset?
Fear of failure is very powerful.

We don't often attempt things because we fear failing, or losing money or what others will think of us if we don't do well.   This is common, I do a bit of public speaking and when I ask my audience about this, it's a very common area.   In respect of losing money, I always say to clients to do their due diligence.   Find out all the facts so that you are making an informed decision.   One reason I don't lock coaching clients into long term contracts is exactly for this reason; so alleviate any concerns.   Don't worry about what others will think; unless you go shouting from the rooftops or post on Facebook "I failed miserably at that" most people are not going to know!
Another big reason why things don't happen.

I hear it so often, and unless you have someone to hold you accountable or start becoming very self disciplined things will not happen.   There are many strategies on time mastery you can implement to give yourself more time.   For a start, stop doing basic tasks, or tasks which you are not good at, and outsource these.  Easily outsourced basic tasks can include office cleaning or filing.   Tasks you may not be great at, and can outsource include social media, bookkeeping or even blog writing.   Focus your time on income producing activities!
Skill, know how or where to start.  

You have all great intentions; you plan to do something, but then you just don't know where to start.   You're unsure of what to do, how to do it and where to turn to for assistance.   So what happens?   You put it in the 'too hard' basket and figure "I'll get around to it later".   Invariably that "later" never eventuates.
Do you really want things to change?  

If the answer is yes, then start looking now at putting a plan in place for 2017.   Unless you have extensive experience in goal setting and business planning, then seriously consider an expert who can both guide you and keep you accountable to your plan (well beyond Valentine's Day!).   There are many exceptional coaches out there (and I consider myself one of them) who can help you to determine what you really want, and as importantly, what the steps are required to knock that goal out of the water AND absolutely keep you on track to make sure it happens!
The Business Coach that works!
I am currently offering 45 minute complimentary consult sessions (Redlands area) for any business owner who wants to make a change.  Simply email me at donna@donna-stone.com.au or call me on 0411 622 666 if you are ready to talk about a change in your business.   You don't have to do it alone!