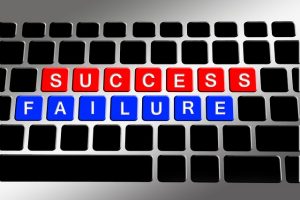 It's quite common that many businesses out there are making critical mistakes in their business marketing.   So here are the top marketing mistakes you should be avoiding.
Top Marketing Mistakes to Avoid in Business:
Not having a website.

Some local business owners think they don't need a website; however the majority of consumers search online for products and services and check you out before they even pick up the phone.   Be absent, and chances are they won't pick up the phone, and you won't know it.   Trends have changed; those who believe they got away without a website for the last 30 years and don't need one now, are sadly mistaken.
Not knowing your competitors or your customers or your audience.

You need to be in the know with your competitors and be very clear about who your ideal client is.   If you cannot identify them, how can you 'talk' to them or setup your marketing online filters to reach the correct target audience?   The parametres of your ideal customers may include their geographic location, gender, age, likes, hobbies, where they hang out, income level, do they have kids or are they into golf or art or football?
Leaving it to someone else and washing your hands of the exercise.

By all means get in experts to guide and help you BUT be sure to stay involved.   After all, no-one knows your business like you do.   Work with your marketing manager or consultant to achieve the best results.    You don't have to be an expert, just make sure that you know enough to tell that you're talking to a marketing expert.
Not having a marketing plan (or marketing budget).

Plan your strategy, your tactics, and the cost for each of these strategies.   A plan provides a clear roadmap of what you do, giving you clear and concise direction … without just random hit and miss activities which are unlikely to work.   By having a budget, it means that you'll more likely stick to the plan and it will achieve greater success.
Not doing any marketing at all.

Some may think that by skipping marketing, they can spend the money on other aspects of the business, or to improve the business.  However, marketing works as a fuel.  Without it, it will be hard to get your business running.  It's likely to stall, choke and stop.
Pre-conceptions.

Declaring something 'doesn't work' because it didn't work for you (or someone you know) at some time in the past.   It may be that the way you tried that activity was wrong, not that the whole idea was wrong.  For example, a poorly written website won't convert visitors to become customers; does that mean all websites are rubbish?   Of course not, it just means you didn't do it right then.
Not tracking your results.

You can't improve what you can't manage and you can't manage what you can't measure. If you know what is working, or not working and tracking your results you will have a far better result as you will be basing decisions on the facts.   I recently put up a video but found that 75% of viewers had dropped off before it completed … which meant that they didn't see my call to action.   Having those analytics and then changing that video then provided a far better result that equated to customers.   The statistics (analytics) gave me the facts I needed to make an informed decision to get a better result.
Loading all your eggs in one basket.

Don't just rely on a website, or social media or print media or even just networking and word of mouth.   Be sure to have a balance blend (a bit like a balance financial investment strategy) so that if one thing goes skewiff, your whole leads funnel doesn't dry up.   A variety of strategies and methods will give you great balance and lots of different customers.   Not every prospective customer will be on Facebook, or will Google search; be seen by more people by being present in a variety of mediums.
Being inconsistent; marketing only when you're quiet.

Unless you enjoy a roller coaster ride then be sure to market consistently all the time, even when you are busy.   There is always a lag time on your marketing; so market when you are busy and chances are, you will never get quiet.
Focusing only on new customers.

Instead, share your focus with client retention, as well as upselling to existing clients, as much as gaining new ones.   It again comes back to balance and it's sensible.   It takes 7 times as much to get a new customer, than retain an old one; so rather than churning through customers, value them and look after them.   Upselling to an existing customer is heaps easier too; in fact when you try to upsell to an existing loyal customer, your chance of success is a whopping 50%.   Half the time, they will say yes!
Being inconsistent with your branding.

Ensure that everything people see has the same look and feel to it.   This might even include sound and taste (if relevant).   Everything from your flyers, online listings, website, business cards should all have the same colours, logo and consistent branding.  Branding can even extend to the experience or your values; such as are you wanting to come across as fun, or professional or approachable or customer focussed or prompt?   Branding often encompasses the words that you use as well.
I hope these tips have got you thinking.   If you need assistance with a marketing plan, or getting a strategy in place, or a connection to excellent experts (such as website designer or social media advisor) please just contact me on 0411 622 666 or email donna@donna-stone.com.au.
One final word, once you have your marketing in place, be sure to visit your sales process, including sales scripts to ensure that your conversion rate is as high as possible and all that great working which is working is being converted into customers and clients.