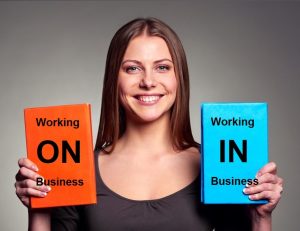 Many have heard this expression; but do we really understand what it means?  I'm going to look at what it means to work ON your business (versus IN the business) and why it's important as a business owner to work ON it.
What exactly is working IN a business?
To me, any part of the day to day operations of a business is working IN the business, for example:
Delivering a product or service to your customers (aka Jobs)
Meeting with a new client, preparing a quote or attending a sales meeting (aka Sales)
Sorting a problem out – it might be a customer complaint (aka Customer Service) or perhaps broken down machinery (aka Maintenance) – generally putting out fires (aka Firefighter)
Working on your marketing – perhaps banking up next week's social media posts
Training or supervision of a team member or processing staff wages (aka HR)
Booking up the jobs for the upcoming week (aka Scheduling)
Doing the accounts, Xero , MYOB etc (aka Bookkeeping).
In each of the above examples, I put a task name to the job, such as sales, bookkeeping, sales, HR, marketing, jobs, maintenance, customer service etc.  In larger businesses, you have someone (or a department) who look after sales or HR or scheduling or bookkeeping.  These are the day to day jobs of the people in your business.   However in a small business, often someone (the boss or owner) takes on these roles and does it all themselves – they are working IN the business.
What's working ON a business?
If you were a larger business, these would be the tasks that the CEO (or Management) do.  They are the things that ensure the long term survivability and sustainability.  In a small business, some examples of these may be:
Business planning and strategy – determining the direction of the business
Marketing planning, strategy and review. If you had a marketing department (or person) this would be done in conjunction with them.
Planning around resources – money, people including planning around staff training
Weekly/monthly review of financial reports and budgets
Review of pricing structures
Planning and implementation of new products or services
Expansion of the business into new areas, branches or regions
Ensuring the business is covered from a legislative and legal perspective
System Improvement (which will reduce the need for firefighting)
Learning, education and training around business.
So why does it matter and what should you do?
Learning to be a business owner.  Many small business owners started out their career as employees.  Perhaps they were an accountant, electrician, engineer, medical / health professional or plumber working for someone else and they got motivated to become business owners themselves.  Many have not been trained in being a business owner – although they know well how to be an electrician, engineer or say an accountant.  The business owner who is doing it all and working huge hours, they can't get a break, can't take holidays and most certainly will burn out, sooner or later.    The sooner you learn to be an effective business owner, the sooner you will have a sustainable business, that makes you money and allows you to have some time out, without it all coming to a complete standstill.
Be more than an employee.  Someone has to ensure the budgets are being met, that the debtors are not blowing out and that generally, the business is in good stead.  Your employees are not going to do this; it falls to the business owner to ensure the staff agreements are in place, client T&C's are correct, cash-flow is on track, you're aware of your industry and marketplace, you're out there circulating in the community, attending local Chamber of Commerce meetings and generally being a business owner – not an employee.  The buck stops at the business owner for many of these things and if the business owner is busy delivering materials – then they are not focussing on these aspects.
Have the best person doing a job.  As the business owner, you frequently have the capacity to earn the most, or affect the most change  – yet owners get caught up running a delivery out to a job (because a staff member called in sick) or emptying the bins or completing the bookkeeping.  I had a client years ago who was a high-level medical specialist; who saw multiple patients in an hour for quite a nice fee.  He did all his own bookkeeping.   Whilst very capable at MYOB, having a bookkeeper at $60 an hour was exceedingly more cost effective than what his hourly rate worked out to be.  Whilst you are bookkeeping, cleaning, delivering, or doing jobs, you are not growing your business or working on its improvement.  Imagine, like my medical professional, if you could get back 1 hour each day, what more business or opportunities or growth strategies could be planned and implemented?  What could that be worth to your business!?!
Allow time to think, learn and improve.  When you are busy issuing invoices or creating posts for Facebook, then you are not giving yourself time for educating, learning or even thinking.  Without development and learning, you (and by association, your business) can become stagnant and even fall behind.  You need to take time out to read, listen to audios, attend workshops, conferences and seminars or training workshops.  We need time to consider and think about our business and what's working or not working in it.  We need the time to advance, improve and learn to see what else is new out there, or what better way something can be done.
Allow time to strategise and plan.  Again, if you're more focussed on say training or supervising your staff or going out and doing a job, or completing some client work, then you won't have time to set up and implement plans and strategies in your business.  When was the last time YOU (if you are a business owner) sat down and did a SWOT analysis?  I love the expression "A goal, without a plan, is just a dream".
Stop being a Firefighter.  I know some business owners love handling crisis situations.  They not only see them as 'opportunities' but they become energised (almost like an adrenalin junkie) by the thrill of a problem and the excitement of fixing that problem.  For this reason, they almost self-sabotage their business to ensure the fires keep coming.  They rarely will set up quality systems and processes, they don't implement checklists, they seldom have staff training, they don't delegate work properly (in fact often micro-manage) so that the fires are sure to keep coming, as will the bevy of questions from staff.  Then when it comes to taking a holiday or getting away, they complain that it just can't happen; "things would all fall apart without me".
It's just not sustainable.  The business model where you are everything to everyone and don't focus on your business equates to the same possibilities for you and your business.  Firstly, your business is not likely to grow, in fact, it will likely shrink.  Rarely are there many aspects of a business which are just set and forget.  Your website, for example, needs a great setup to start with, but if you want to continue to be found, you either have to spend good money on SEO or SEM strategies or be proactively blogging on your page.
It's not saleable.  A business which relies heavily on the business owner is not a business which can easily be sold, or sold for a decent price.  If you want to achieve top dollar, you need a business which makes good money, has great systems, quality marketing and has a proven record of operating well without the owners.
If you need help with any of these aspects or are ready to work ON your business with a business coach then give me a call on 0411 622 666.  Start making a positive change in your business.