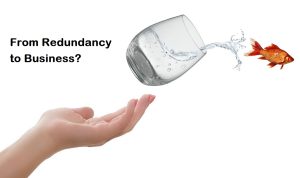 Whatever the large organisations want to call it – reshuffle, restructure, redundancy – the cold hard fact is that you no longer have a job.  The banks are big on cutbacks at present, but they are not the only ones.   Organisations are moving to technology, of offshoring where labour costs are incredibly low.
If you've been with the organisation a reasonable time, your redundancy payout might be quite reasonable.   How do you spend it?   Some will look at paying off mortgages or perhaps buying an investment home or will look at getting into business.   If you're considering business, have a read here – as I will be pointing out some important factors you truly should consider before embarking on business.
Tips in using redundancy money for business:
Know what you have available
The ATO generally don't tax genuine redundancies; however, there are limits.  Talk to your accountant to know where you stand before you go spending money you might not fully have.   Consider also cost of living as you'll need money to live on.   I'll talk more about this in 'Income Expectations' below.
Buy or Start-Up?
There are pros and cons to both.   On the buy side, you might be buying a franchise or buying an independent business.   The biggest thing I can say is do your due diligence and ensure you have a solicitor check it out for you.   With anyone selling a business or franchise, don't rely on what is said verbally; ensure it's in writing.  Do not assume with a franchise you'll get all the leads you need or they will do sufficient marketing to keep you busy.   If you are buying an existing business, ensure the clients and staff will stay on after the previous owner has gone.   Whilst the appeal of an established business is that it's established, you are paying for this.  Hopefully, the systems, processes, marketing plan, customer support and delivery are all working super well.   You will be walking into a turn-key operation – assuming everything is as you've been advised.
Alternatively, you may wish to start up, from scratch in your known area of expertise.   I personally have always been a 'start-up' person.  It's exhilarating but it's also hard work.   There is potentially more risk and whilst your start-up costs can be reasonably low in some cases, how long can you live without a wage?   With any start-up (or even a buy) do your research.   Where is the marketing going?   Is there a flux and saturation of that product or service?   Is there even a demand?   Consider the business long-term.   Do you intend to work in it yourself or be more of a manager?   Are you considering something purely because it sounds like fun?   I remember as a young girl, everyone wanted to be an airline hostess.   It sounded glamorous but think about it.   They are on their feet (in heels) for up to 12 hours at a time.   They service food and drinks to some of the rudest people I've ever seen.   They have to deal with crying babies, complaints and sick people in very confined spaces, whilst all the time remaining composed and looking elegant.  It doesn't sound so exciting to me.
Income Expectations
With a new business (versus buy or franchise) you won't have income from day one.   Sure, you won't have franchise fees or a business loan (or chunk of your redundancy gone) but you won't be making money straight up.   In my experience, it takes on average 4-6 months to start breaking even and covering at least the business costs and overheads.  Depending on your business acumen, it might be less or it might be more.   Be realistic and budget to have no income for 6 months and to be able to cover business costs for that period.  It might sound tough and it can be and you might be doing great after 2 months – but better to be prepared for the tougher scenario than to go into panic mode because you're struggling to put food on the table.
Business Skills
This plays a big part when going into business.   Anyone who is good at what they do – whether that's consulting, accounting, plumbing or architecture, you are good at what you do.   That doesn't mean you'll be good at business.   Accountants can go bankrupt.   Being good at business means being good at:
Marketing
Sales
Finances
Communication
Managing staff
And there is so much more.   Are you self-motivated?   Do you fear technology?   Do you hugely fear selling?   Are you organised?   Remember, you can employ people or contract out some services.   For example, you may employ a contract bookkeeper a few hours a month.   You don't have to know how to bank rec Xero or MYOB but you do need to know how to read financial reports.    You can get someone to run Facebook ads, but you do need to have a marketing plan and know how to track and measure your activities.   You can absolutely get help – but you do need to have some basic skills, knowledge and understanding of business.
Can you handle the punches?
Ok, I'm not going into martial arts mode and talking about a jab-cross to the stomach.   Are you tough enough and resilient enough to handle sales objections or prospects choosing to go with your competitor or a difficult client?   When a prospect says no to your service, remember two things:
They are not rejecting you personally
That 'no' is now, not necessarily forever.
Anyone who is in business is in sales and when you're in sales you will get people saying no.   You will get customers who are rude, you will get complaints.    You will get people trying to rip you off and take your product and service without paying.
Are you good with money – and other things?
Gone is the day of a marketing budget of $1.2 million.   Gone are the days that "the accounts department will issue your invoice" or that you will just get your paycheque every week, fortnight or month straight into our bank account.   Gone are the days of just putting in your leave application form and being paid annual leave to go on holidays.   Oh, and until you are established and have team or contractors or suppliers who can keep things going, you'll struggle to entirely switch off, even when you are on holidays.   Many small business owners take their laptops and devices with them on holidays to keep things going whilst they are still small.
What about your IT?   You can't just call down Tom from IT to have a look.   You'll have to find an IT person who might take a few days to be able to get to you.   The first year or two are the hardest and you'll need to be prepared to do hard work, often without all the support you previously enjoyed from the 'Departments'.   How good are your time management skills?
Alone or without your mentor?
For those who were in high positions or large organisations, chances are you had a mentor and certainly associates with whom to communicate, share and bounce things off.   Now in business, your clients or staff are often not someone you can treat as a confidant.  You can't discuss with the team how worried you are about the finances (please don't, unless you want them to start looking to jump ship).   Before your organisation may have had KPIs and targets for you to meet.   They provided you with support and training.   You are now responsible for all that unless you chose to get a business coach on board.
As a business coach, I support clients (new to business and more established) with:
Setting up or improving systems and procedures
Marketing strategies and sales processes which work
Goals, accountability and structure
Problem-solving, spitballing and bouncing ideas
Getting the right team on board – including connections to great suppliers, such as website designers, printers, accountants, lawyers – everyone you'll need to get started.
I specialise in the areas of service-based business (professional services, medical service, tradie services and consultants).  I have a Coach the Coach ™ program especially for Business Coaches and Consultants.
Being in business can be exciting, exhilarating, rewarding, financially fulfilling and allows you an independence you may not have previously experienced.   It's also a heap of hard work, discipline and can be filled with challenges.    If you are going to go into business, do it with your eyes wide open and be realistic about your expectations.   You cannot simply set up a website, hang a 'shingle' and expect the dollars to roll in.     I do offer initial free consultations – give me a call at 0411 622 666.
Read this article Business – Is It All About the Money?