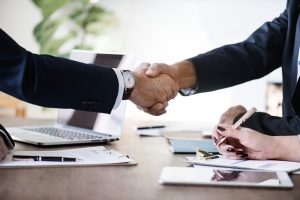 Handshakes remain the first impression that you create when you meet a client, a manager or an executive officer.  It goes back to the day when one would impart goodwill by showing his sword hand was free of a weapon.  Handshakes leave a lasting impression as they are the first thing you do to a person when you meet them.  This is what makes it crucial to shake hands in the right manner to leave a lasting good impression and tells a lot about your personality and attitude.  As they say, "The first impression is the last impression".
In business (in Australia), it's acceptable (and often expected) that men and women will shake hands.  Gentlemen; us ladies do not want (or appreciate) a limp, barely connected (finger shake) nor a crusher.  Ladies, you can be a lady and still shake hands properly; don't be afraid to do a firm and solid handshake; being a lady doesn't get you 'off the hook' when it comes to leaving the right impression.
Bad handshakes leave an impression that can put off your client.  This is why it makes it important to understand the different bad handshakes and how they can be avoided.
Let's now take a look at the different bad handshakes:
The limp shake

This handshake is the one wherein there is a light grip on the other person's hand while the wrist can be turned over easily.  It is extremely irritating for anyone on the receiving end of this handshake so make sure you try your best to avoid this one.  If you have sweaty hands, dry your hands before shaking your hands with someone.  Sweaty hands can be disappointing.
Crusher

The opposite of the limp shake is the crusher.  This handshake is usually common among men who want to display dominance over others.  It is an extremely tight-gripped handshake followed by several shakes.  It is mostly used by men who want to show dominance but is often used by people who feel weak and don't want to feel dominated by others.  I've been on the receiving end of some crushers and wow, I wonder what they are trying to prove?
The 'press-harder' one

This is the one that takes the Crusher to the next level.  It is exactly like the Crusher, but just harder.  Usually, the motive of the person is to demoralize or bully the one whose hands they are shaking.  If you are a victim of this, then let the other person know in a light-hearted manner.
Finger shake

This is the one that usually happens between men and women.  This is typically when a man or woman put out their hand for a handshake and the person ends up grasping only their fingers.  However, this is one handshake that you can easily recover from by using your other hand to reposition both hands and give a smile.
The Pull

As the name suggests, here the person pulls the other person's hand bringing them closer by making them feel slightly uncomfortable and feel off-balance.  Remember the purpose of a handshake, it's a greeting, to impart goodwill, so why would you want to put someone off-balance?
The shake that never ends

This one is mostly seen in super-energetic people who just can't let go of the other person's hand.  It can be, and is in fact, one of the best ways to engage someone in a conversation for a longer time but can annoy at the same time.
The kissing shake

This is one the ladies only are on the receiving end of.  I have sometimes put my hand out to shake and the man has taken it and come in for the kiss on the cheek.  I see it as ok when it is someone you know fairly well or in a social setting, however, even in a business setting where I don't know the person well, I just smile and let it slide.  I see no reason to berate them or make comment.
These are some of the handshakes that you must try to avoid if you really want to build a good impression on the person you are going to interact with.  Handshakes are the beginning of your journey with someone else so make sure it is one that is well done.  This is why you need to give what is called a 'strong handshake' to leave a lasting impression on the one you are going to interact with.  How can this be done?
Let's take a look at how to do a strong handshake:
Make your handshake one that is firm, but not too harsh so as to crush the other person's hand.
Ensure that your hands are dry and free from any food or oil so that the person remembers you and not what you've just eaten.
If you are someone who often has sweaty hands, wipe them off before you shake hands with someone.
When you offer your hand, make sure that you look at the person in their eyes and smile at them.
When at a social event, seriously try to keep your right hand free. For this reason, ladies, have a shoulder bag (not a clutch) so that you can hold a drink in your left hand and have your right hand free for greetings.
It is also just as much crucial to know when and where to shake hands with someone.  This is because handshakes do, in fact, involve timing.  You cannot just shake someone's hand anytime, anywhere.  Some people often try to avoid presenting handshakes because they don't want to be left hanging.  However, always offer a handshake even if you are unsure whether someone will notice it.  Much of the time, people will notice and shake hands with you immediately.  You need to know when you shouldn't offer a handshake to avoid the feeling of being left out.
Let's take a look at when you shouldn't offer a handshake:
When the other person is busy conversing with someone else, don't offer a handshake.
Don't come to someone from the side or from behind with a handshake, this might make it difficult for them to see, thus leaving you hanging.
Greet the person first before you offer a handshake so that you grab the person's attention well beforehand.
One other important factor to take into consideration is of different social norms and cultures.  Most cultures are different when it comes to shaking hands with someone.  Some cultures don't prefer men and women shaking hands together and some cultures don't shake hands at all.  You need to be careful about these especially when you travel abroad so be sure to do your research if you are travelling overseas, especially for business.
You can shake your hands with someone in conferences, wedding halls, your guests when they arrive and leave, or just when you meet people in a social gathering and particularly when you are being introduced to a person.
Thus, knowing when and where to offer a good handshake is really important to create a good impression on the other person.  This is why knowing the etiquettes of a proper handshake is so important.  And remember to always try your best to avoid the bad handshakes.  Finally, parents, have you taught your children how to shake hands?  I did it with all three of my sons as they were growing up; it's all part of a well-rounded upbringing.
Contact me on 0411 622 666 for more business coaching tips.
More articles to read 10 Bad Work Habits to Drop in 2018.