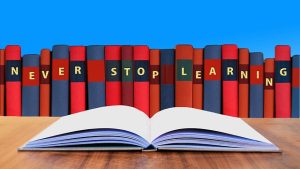 For coaches, consultants, trainers, advisors and many professional, education-based marketing is a great way to market your business.  This is because it builds trust with your audience and allows them to get to know you.  They will feel a connection and will see you are in fact very knowledgeable in what you do.  Over the years, I've spoken to some people who speak to me as if they've known me forever (and in many ways feel they do) despite our never meeting.  This is the gold in education-based marketing; they know, like and trust me before we even meet.
So, here are the mistakes and 'sins' to avoid in this education-based marketing style:
Everything for everyone.

If you are too broad and try to appeal to everyone, then you end up appealing to and attracting a few people.   Think about this … if you are starting out as a business coach – would you be more interested in someone who coaches other coaches, or coaches every type of business?   (Hint … check out my Coach the Coach program).   So as a coach yourself, if you were marketing specifically retail businesses or tradies, then you are more likely to connect with these people.   Your words will be geared to their pains, their needs and their language.   A few years ago I wrote an email marketing letter which was specifically to accountants and I talk about some challenges that accounting practices experience.   One person who contacted me said, "Donna, it was like you were talking to me personally!"   Mission accomplished!
Know their pain.

Before you can help a coaching client, you need to understand their pain, their frustrations and yes, their dreams.  You need to know what their 'red-hot button' is.  You might think they need to worry about one thing, but really, they are only interested in another?  For example, bookkeepers feel that getting your BAS right is the most important thing.  However, a business owner will see far more value in debt-collection services.   So as a coach, whilst you may love/value or see the importance in say systems and processes, your prospective client might be saying 'hunting' (getting in new business) is far more important.   For this reason, it's always wise to ask the right questions very early in the relationship.   Then and only then you can begin 'talking' to someone and addressing what you know is important to them.  The concerns and frustrations of a lawyer are different from a tradie, café owner or manufacturing business.   Talk to your person specifically and about what interests them.  Be in their head, walk in their shoes.
One thing at a time.

Try to stick to one subject.   It might be a number of strategies in an eBook but the overall theme might be improving profit.  In a blog, you are targeting usually one concept.   In the case here now, 'education-based marketing'.   It might be sales strategies, marketing pointers, how to get new customers, how to retain old customers, how to recruit great people, what critical figures need to be reviewed in a business.   The list goes on … but you see that in every piece of writing or communication you have a theme.
Straight in for the kill.

Marketing often takes times, and especially certain styles of marketing take time.   Networking is one excellent example.   Akin to getting married, you don't get engaged (sell) to someone on the first date.   So in some forms of marketing; take the time to get to know your 'beau' and give them time to get to know you.   My personal rule is 90/10.   Make your giving 90% of the time/message with only a small reminder at the end of what you are selling or what you do.    It might even be more subtle and only the bio at the end which says something along of the lines of "Donna has 30 years of coaching experience which she shares in her Coach the Coach ™ program".   Sure, I just did a little sell, but you get my point … don't go in for the kill.   Think back to workshops you've attended and every second word coming out of the presenter's mouth is "if you buy my Platinum program …." Which by the end of the day, you just want to throw that Platinum program out the window.
Make it hard for them.

At times, we are so focussed on getting a prospect we make it hard for them to accept our education.   If people feel forced or you make it hard, they just move on.   Imagine you have an awesome eBook that's really cool.   To get it "Just ring me on XXXXX to get your free copy".   First thing, I have to ring?   Means I have to do it during business hours, not at 11pm at night or 4am in the morning.   Secondly, I have to remember to make that call, find a time to do so.    Most importantly, gosh if you've got to ring, you're speaking with the business owner, they probably will do the hard sell on you – an hour later you'll be struggling to escape.   No!  Don't scare off people or make it hard.   Send them to a quick and easy landing page (which doesn't ask a million questions) and let that be it.   In some cases, you might even allow them to download without giving up their email address.   These days with remarketing and retargeting, you can utilise other strategies to reconnect with them.
Too much or too little.

One thing I find when I coach other coaches, consultants or advisors is that they are scared of giving away their 'gold'.   They are fearful that if they give the good stuff away then they will have nothing to sell.   So they hold back and give you only one good concept, or not even a good one, but a mediocre concept.   The problem is that your prospect saw a little bit of mediocrity; they won't be that excited to come on board.    Opposite, you gave away everything; why would they come back for more?   Even in my business books (all six of them), I have not downloaded absolutely every single thought in my head; there is still heaps of great material left between my ears that I can share.
Don't actually read it?

The biggest challenge with education based marketing is that people have every great intention, but ultimately don't have the time to read it.   An audio might have better luck (and hence something to consider) but we are all time-starved.   So, here is a great tip.   Explain at the beginning (especially if it's an eBook or whitepaper) why someone REALLY needs to be doing that particular thing and then say that if you don't have the time to read all 21 tips, then jump to page 19 for the easiest way to get it done right now.   Then on page 19 you outline how you can help someone.
What's next?

Again, we often make it hard for people to do business with us.   We should clearly outline in our marketing, our education and especially our website what is the next step?   If you want help, what do you do?   If you enjoyed the white paper then what are the options afterward?   Do you have a great book which covers that in greater detail with other information?   Do you have an upcoming workshop which goes through all that in greater detail?    Essentially you have told them what they need to know, but not everything you know, so there will always be something more.   You may well have educated them that they have a deficiency and that you are the solution … so how can they contact you?   Perhaps your next step is a complimentary ½ hour phone session or a face to face meeting?
The relationship dies.

Due to lack of follow-up, the relationship comes to an end.   So you got them to your website, you send them an eBook, you maybe even had a complimentary consult with them.   You hopefully followed up on that meeting, but they didn't return your phone calls.   It all stops there?   No!    At the very least you should be adding them to your database and giving them some great information along the way.   Keep your communication short, fun, educational and even share some quick stories (everyone loves a story) so that when they are ready to buy, or have developed enough trust, they call you, not your competition.
I really hope these tips have helped you.   Need help?  Just fill in the 'CONTACT US" form.   Make a spectacular day!
Read my blog How to Create Newsletters That Get Read.