In business and networking, learning another person's name is critical in showing respect and building a quality relationship. Relationships grow business, and growing business should (if business is done well) increase your profits. When you fail to remember a person's name, it's somewhat sending a message that you don't deem them important. We remember the best local pizza joint, our dogs birthdate, what time Neighbours is on TV, so why not my name? We often remember details of how people looked, so a name is harder (because it's auditory) but with practice you will improve.
Ensuring you and your business stands out from the crowd.
Here are my 7 tips to remember names, especially whilst networking:
1. Believe in yourself
If you keep saying "I'm hopeless at remembering names" you will be hopeless at it. Remember as children, if we were told something enough, we believed it. That doesn't stop as adults. Keep saying to yourself you can't do something or you're bad at something and you will be. So – start being positive and saying I'm good at names! In the course of business I personally meet heaps of people and I'll bump into them perhaps at the shops. My memory might take a while to catch up … and often before I say goodbye, I remember their name! So, on finishing up I'll say "Cathy, it was great seeing you again!" That person will never know when I remembered their name.
2. Use their name
Whilst it may sound a little forced to start with, as soon as you met someone, try to use their name a couple of times whilst speaking with them. For example: "Good to meet you, Robert. What have you found useful during this weekend's seminar, Robert?" Don't stop the habit of using someone's name, do so at every opportunity. People love hearing their name.
3. Don't be afraid to repeat it or clarify
If you don't hear the name properly or clearly then ask them to repeat it. Networking events can be hard to hear or their name might be unusual. There is nothing wrong with asking; even saying "Sorry the room is so noisy, can you say your name again please?"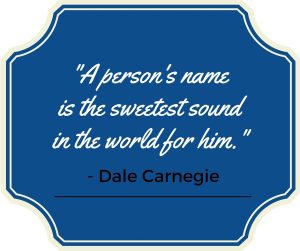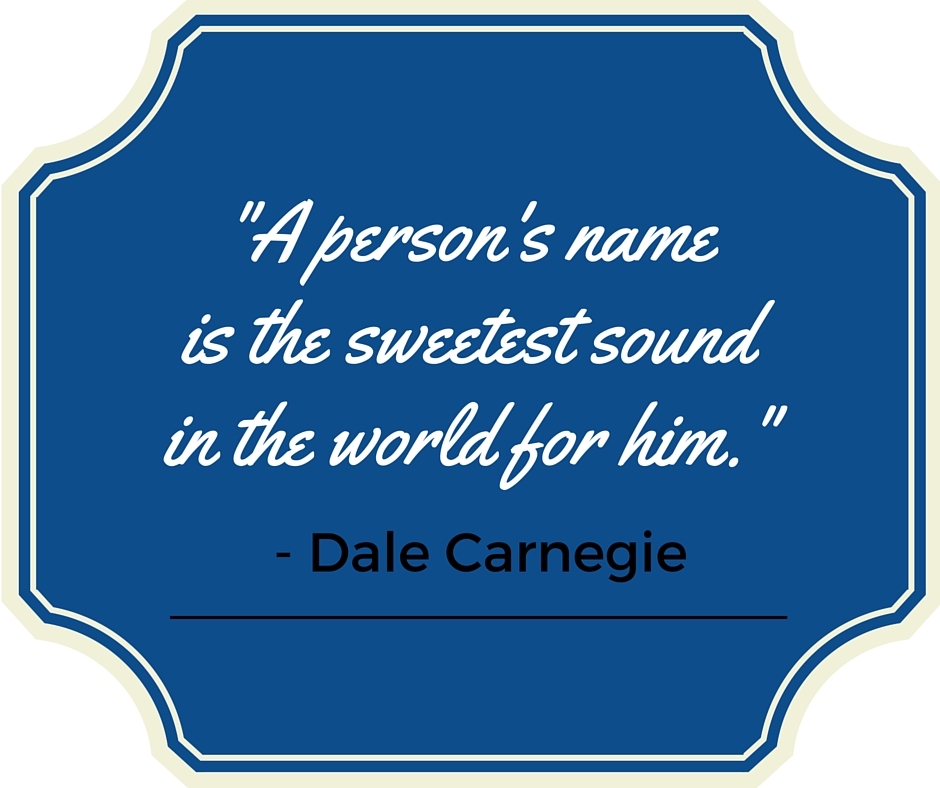 4. Make an association
As you meet someone, try to make an association with them and their name, ideally a play on words with the same letter or rhyming word or connective. For example:
• Bob was wearing blue shirt
• Susan wore that sassy dress
• Jim was tall and thin – Slim Jim
• Jess had the lovely gold jewellery
• Tori had the torrent of red hair
5. Write it down & make notes
After you have finished meeting them, don't instantly move on. Take the time to write on their business card any additional details about them that will remind you who they are and if you promised to do something. However, be warned, to write on an Asian's business card is an insult; you are defacing it. Often I will instead try to remember details, and in the car immediately after (not a day later when I might forget) I write notes. Because business cards are often very glossy, using a white out strip is great, as you can write on that.
• "Indian girl, super nice, about to have 1st child. Intro to an Accountant."
• "Derek – friend of John S. Wants my info. Started bus 2 months ago."
Of course be sure to follow up on promises, and make yourself memorable by perhaps in a few weeks sending a baby card to the girl who was having a baby. Helping others (ie connecting to someone else) is an exceptional way to be remembered (positively).
6. See the Spelling Visually
Say their name in your head and spell it out in your head. Julie. J – U – L – I – E. Julie. If you have time, do that twice and be sure to see the letters in your mind. Most people are visual, rather than auditory, so seeing the name will actually be better than just hearing it.
7. Don't stress
If you have forgotten someone's name, the sooner you raise it, the less embarrassing it gets. And guess what, they may even have forgotten your name as well. An alternative is asking another associate, but sometimes that's not an option – so just ask. Better to ask than never use their name again, and of course being caught out having to introduce them to someone else. We're not perfect and sometimes we will forget a name, but keep practising and believing you are good at it, and you'll do fine.
Good luck with remembering. To help others remember you better, have your photo on your business card – but please, be sure it's a professional photo and not a mobile phone 'selfie' !!
You'll get more tips from a business coach, just call me at 1800 77 65 61 or email donna@donna-stone.com.au