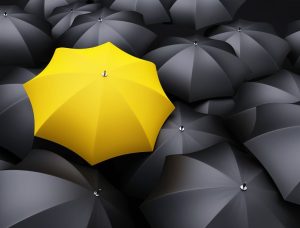 I was talking to a client this week who is in a saturated industry, and my advice was "stand out from the crowd" particularly with the marketing.    Some of my coaching clients are fortunate that they have a unique product or service, but others are one of many, so to get a competitive edge, you absolutely must stand out from the crowd.
Read 5 Examples of How I've Made a Difference to My Clients' Lives
Here are my tips for you and your business to stand out from the crowd:
Keep promises

If you say you will do something, then do it!   In fact, under promise and over deliver (within reason) and you'll be noticed.   If your memory isn't perfect, then always make notes and be sure to action.
Do things differently

One unemployed person (Kyle Clarke) started an online campaign "hire me" and encouraged employers to bid for him; Kyle got more job offers than he could poke a stick at.   A great networker used to send recorded audio voice messages after every coffee meeting – definitely different than the standard email.
Show initiative

Whatever your service, think of where you can do this.  Perhaps you're a bookkeeper and you offer to do debt collection calls for your client.   Exceptional customer service might be expected, but it's not always common place.
Be exceedingly positive

Make it your mission to never write or say a negative word (publicly) and be always positive.   I sign the majority of my emails on a Monday  "Make a Magnificent Monday" and then there is Terrific Tuesday, Wonderful Wednesday etc.
Set the trend

Rather than worrying about what everyone else is doing, or following the trend setters, become one yourself and lead the market.
Would you believe that good manners are not commonplace today?

Saying thank you or opening a door or being polite are becoming unusual.   I truly believe you can't go past good manners.  I know some people stand out by using X rated language.   You do risk alienating prospects though.
Be confident

Worded well, it's not egotistical or arrogant to say you are an industry expert or expert in your field – just as long as you've been at it for more than a few months.
Hand written notes

Ahh, I miss the good old days when you got a hand written note or card from someone.   Electronic cards, emails and such are ok, but stand out with a personally hand written card or note – I can assure you that's unique these days.
If you have written a non-fiction book (and especially if that is not common in your field) then giving a business tips book to your clients will make you stand out

Years ago I started doing this and I'll bet I was the only person in my industry in Australia who did this.
Make a gift

To say thanks to a client, or someone who referred a client to you, give a personally handmade gift.  If you can cook, it might be some fudge or a pudding.   The recipient will feel very special knowing you made it personally.
Compliment Others

This should be genuine and appropriate.  Gentlemen, please don't say "great rack!" People rarely give a compliment.  By making others feel good about themselves, they will feel good about you.
Point of difference

If you use only local staff, or purchase raw materials only from your region, then put this in your marketing material.   Perhaps you employ a disabled person, or help your local community – share the news.
Dress to sparkle?

I know a marketing expert years ago who called herself "Ms Sparkle" – her business was to make your business shine.   Regardless of the time of day (including breakfast workshops) she would always wear a sparkly top and gave sparkly hair bands to all (female) attendees.   I had that hair band for years and still two decades later remember her.
Check out How to Slow Things Down in Business so that Profits can Speed Up
What are YOU doing to stand out, be memorable and be remembered (perhaps two decades later)?