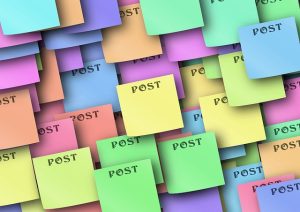 So often business owners ask me how I've achieved success and I believe too little credit is given to LISTS.   I'm the first person to admit I'm a lover of lists.
They do many things:
Ensure you don't forget something critical (obviously)
A valuable tool in the planning process
Focus you on what you are doing
Keep you on task
Here are my top 11 lists:
Daily & Weekly
– seeing clearly at the beginning of the day what needs to be achieved, ticking those things off and feeling the satisfaction of a job well done once the list is completed.   If it's not done, and important, it goes to the top of the next list.   Or possibly you set a rule you don't leave for the day before the list is done (within reason).
Shopping
– without a list, what stops you from coming home 2 hours later and having forgotten the milk?
Selling a Business
– wow, did that list prove gold when I sold my business.   You would not believe the number of things which had to be done – and got done – thanks for my trusty list.
Camping
– nothing worse than turning up to a remote site with your gas bottle empty or you've forgotten the bug spray or your meat is still safely sitting in the freezer at home!
Moving to commercial premises
– more than you'd believe is involved in a move to commercial premises – I'll be putting up my list on my website soon – it's a doozy.
Hosting an event
– having done many, from book launches to 15th birthday parties for my business – you don't want to forget a cork screw for the wine or batteries for the microphone, or OMG, forgetting to confirm the venue and they double booked!
Moving House
– another long list which will save you and ensure you don't drive your car unregistered because your renewal went to the old place or the day arrives and you've forgotten to book the removalist.
Guest Speaking
– another great list to ensure I don't forget my business cards or don't arrive and they haven't uploaded my PowerPoint (yes, shit happens).
A Register (list) of your prospects
– so you continue with your sales process, follow up, and ensuring every lead gets the attention that it deserves.
Database
– yes this is a list of your connections and having grown a number of businesses from word of mouth and engaging with my contacts, this is probably the most valuable list of them all.  (And no, this one will NOT be going up on my website!)   Why would you not keep this list in a usable and simple to use format and use it day in and day out?  If you're unsure of how to go about setting up a database (or email marketing list) just ask me.
List of Services
– do all your clients have a list of your services or products?   Why not make it easy for them to know what you do?   The last thing you should be hearing from one of your customers, that they used a competitor for one of your other services and later say "Oh, I didn't know you did that!"
And the list goes on (pun intended).  Keep an eye on my website, I'll be adding things (like some of my favourite lists) to it on a regular basis in the page 'free stuff' at  https://www.donna-stone.com.au/free-stuff/.