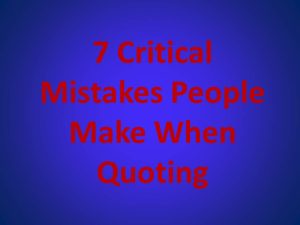 Not turning up.   Needless to say you won't be getting that job!   So often you contact someone for a quote and they don't respond or it's over a week for them to respond.   If you are flat out and don't want work, consider downgrading your marketing OR consider putting on more staff to cover the workload.   If you price right, it should equate to more profits.
5 Examples of How I've Made a Difference to My Clients' Lives
Turn up late or grotty.   If you are a tradesperson, people don't expect you to turn up in a suit, but please be clean and tidy and not stink.   Maybe you have a "quoting" shirt hanging in the ute and stick of deodorant OR you have set days you quote.   If you will be late, please ring or text to advise.   Remember always to be polite and respectful of someone's home (ie offering to remove your boots).
Not submitting the quote.   It surprises me why someone turns up to quote but then doesn't take the time to submit the quote.   If you are that busy, then decline quoting when you are contacted.    Remember you will start to get a bad reputation and pretty soon you won't have the "I'm too busy" problem!
No terms on the quote.   Give people enough info and be sure to list your terms, ie 20% deposit or quote is valid 30 days only.   In fact listing all your terms and conditions on the back of the quote means everyone knows the 'rules' clearly up front.
No phone number on the quote.  Make it easy for people to do business with you – so be sure to have your phone number and email there.   Maybe someone wants to check a detail, but works long hours … being able to send a quick email (and you responding!) might be the difference between getting the job or not.
A business coach can guide you through all this.
No follow-up.   This is so common and sometimes I've asked people why they didn't follow up on their quote and they say "I didn't want to hassle you".   No!   If you quote, give the person a follow up call a couple of days later – if nothing else than a "courtesy call to see if you had any questions" … it's not the hard sell, just follow up.  Maybe someone really wants to give you the job, but they've been busy and you calling them is doing them a huge favour.   Sometimes you may even land the job because of the service, rather than it being based on price.
Not keeping details or keeping in touch.   Even if you don't get the job, or they are not ready to commit now, keep their details in your database and send them regular newsletters (with permission) … maybe they won't buy now, but they may buy later, especially if your articles are interesting and informative.
If you want your business to do well, now and in the future, it's important you get this aspect of your business right.   Do it wrong, and you'll have all the time in the world to contemplate your financial woes.
Need a guide? Call me at 1800 77 65 61 or email donna@donna-stone.com.au.