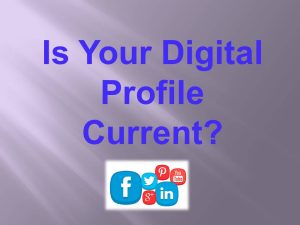 It's amazing how much business we get from our online digital profile.  People do 'Google' us before making the decision to work with us – checking us out personally as well as our business.   It's not stalking, it's smart business as we want to be sure we are working with someone reliable, trustworthy and who is what they say they are.   It's interesting that I see many profiles which are incomplete, out of date or simply look as if the person just couldn't be bothered.
A Business Coach can help you.
Some of Our Digital Profile
Social Media Profiles.
When was the last time you reviewed and refreshed your Facebook or Google profiles?   Does it reference some date back in 2007?
Website.
Here is an area I frequently review and see issues ranging from lack of branding, inconsistencies on message, lack of engagement, lack of irresistible offers or outdated content.   When you look at your website, how do you feel?   Do you love it?   Do you honestly believe others do too?
LinkedIn.
Is your profile complete?   Does it have your current position?   Does it read more like a resume, or like an engaging introduction to you and your business?    Do you have a professional corporate shot?   Does it draw the reader or bore them to death?
Email Signature.
Have you even got an email signature, which tells every person who gets your emails what you do, how to contact you and even sells?
Skype.
Does your Skype profile have a professional photo, your contact details (current of course) and have you written down a mood?   I suggest this might be your tagline or motto. Mine is 'My Passion is your Potential'.
Check out how a Business Coach have made a difference to her clients' lives.
What else? What other online profiles do you have?   Do you even know?   Have you kept a list (with your passwords to access)?    You may have profiles on True Local or your local chamber.   Go online and check these out to ensure they read well and are current.
Your online presence should not only be current, but should be putting your best step forward.  If you need help with any of the above, your content, your message or your engagement online – I'd love to hear from you. Email me at donna@donna-stone.com.au.
Make a spectacular day!
P.s.   If you are an employee and considering a change of employer, be sure to Google yourself and see what you find – be assured that switched on recruiters will be checking shortlisted applicants out – best you know what they will find.