When it comes to 'selling the intangible' such as in a service-based business, it can sometimes be a challenge to convince our customers of our worth.  This is where value comes into the equation and the value of expertise, knowledge and experience.
First, let me share a story, and you have seen it before, but this is the shortened version.  A large ship is in a dry dock for repairs.  Whilst it's not 'working' it's losing a gallon of money every day.  Plus the dry dock costs money.  Wages are being paid for people to sit at home not working.  The ship's owners sourced lots of people to fix it, but no-one could.  Do the maths; those lost dollars are mounting.  Then they got in a mechanical engineer with 40 years' experience.  It took him 30 mins to fix the problem perfectly.  When they got his bill for $20K the owners just about fell over and wanted a detailed itemisation.  The response:
Tap with a hammer:                                                    $ 2
Know where to knock and how much to knock:      $19,998.
So often when you get an expert, you're paying for the expertise and 30 years or so of experience and their training, education and know-how.  Experts often spend their entire life accumulating knowledge and experience.  They invest in themselves with training, courses or University.  They probably have made mistakes (or seen mistakes) and know what to not do.
What about your heart surgeon or endodontist?  They are not cheap, but would you want cheap?  Would "ooops, don't know how to fix this" be something you'd want your loved ones to hear when advised you're dead?  You might just be in the chair, or on the table for 30 minutes, but what about all the experience, knowledge that the specialist has accumulated?  What about the equipment and let's not forget their astronomical professional indemnity insurance.
Now, let's look at another scenario, which probably a few of you can relate to.  You've quoted a job for say $4500.  You might be a landscaper, plumber, digital marketer, website builder, electrician, architect … really anything where it's a specific and customised job or project.  You provide your proposal and the recipient says "Oh, thought it might be more like $2500".
Firstly, appreciate that their challenge to you is a good thing.  They didn't just say "thanks" and walk away; they are giving you the opportunity to respond.  In other words, "I'm not convinced, but I'm open to discussion and being convinced".  This is not where you walk in and give a discount!  This is also not a negotiation.  This is also not where you say "Take it or leave it!"  Instead, you need to address the objection (being price) and confidently convince them why it's worth it.  If this leaves you feeling very uncomfortable; my sales training will definitely help!
May I say, you should have been convincing them of your worth well before you provided them with a quote.  Your website should clearly state your level of expertise as should other platforms, such as social media, LinkedIn, other website listings.  What about your email signature, or your confirmation email – what is included in that?  I promote myself as an expert business coach.  This is not ego, this comes about from 30+ years of experience, having run my own businesses, formal qualifications, memberships with professional bodies, furthering education and courses beyond the initial quals, the time I spend every day learning more, problem solving and improving my skill set.  I've won business awards and written business books … well, you see what I'm saying.  I've invested a lifetime into what I offer my clients in every hour I talk with them.  I've invested time in building resources and in every case there is the prep behind the scenes through discovery, investigation of the new client and getting to know them.  So long before I even talk pricing, I'm educating and communicating with my prospect around my knowledge and expertise.  A great example is this blog.
So before they reach out and ask for a quote, if you've done your job well, people will already have a good perception of you and your value.  In a previous blog of mine, I talked about proposal documents and what you should have in them (far more than most businesses realise) and that also goes to pre-setting the value appreciation.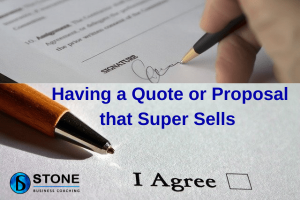 One thing I do want to say is that whilst someone may appreciate your value, they may simply not be able to afford it.  I know some business coaches who will help you get finance to pay for your coaching.  I'm not a fan of this; I believe business should stand on its own two feet.  This is why I offer different package levels, so you can access coaching, even if it's a little bit, without having to take out a second mortgage on your home.
In your quote, it's important that you include everything you will do.  Not just "Monthly Digital Marketing" or "Construct a 5 x 6 m patio" … put enough information in there that people see what they are getting.  If you need to get council approvals, you could say "including Council approvals" or "We will do all liaison, forms, submission and communication with Council to attain Council approval".  Remind people how painful some of the processes can be and that you deal with all that.
Finally, be prepared for the objection, it might be having a list of everything which is included as part of your experience, such as:
✔ Knowledge
✔ Experience
✔ Custom Skills
✔ Tools
✔ Specialist equipment
✔ Vehicles
✔ Access to your contacts
✔ Access to your trained staff
✔ Access to your resources
✔ Quality assurance
✔ Time to plan
✔ Time to prepare
✔ Professionalism
✔ Excellence
✔ Discipline
✔ Commitment
✔ Integrity
✔ Licenses
✔ Sacrifices
✔ Liability
✔ Business running costs
✔ Insurances
Does doing your job mean you're on the phone Sunday night organising the subbies?  Does it mean you accessing your suppliers for a specialist product?  Does it mean actually getting someone to do something 'as a favour' for you so that you can get the job done; pulling on that relationship you might have built with a supplier over a decade?  Getting up at 6am to go to the hardware store, or your licensing, or perhaps using your ute or truck to transfer materials.  What about specialist tools, or more importantly, knowing how to use those tools properly?
Now let's image you're a lawyer, accountant, digital marketer or business coach.  What expertise are you drawing on?  A missed tax claim could equate to the loss of real dollars.  Not having a legal and binding client agreement could cost you in real dollars.  Spending money doing the wrong marketing or in the wrong way will cost you in multiple ways; loss of business, loss of advertising expenditure, loss of time and the loss of potential opportunities.  When you start a new business, do you want to do it the long way, the hard way or the wrong way?  No-one sets out to start a business to fail, but we all know the scary stats about new business failure.  Failure happens for so many reasons and it happens to smart people.  I know an accountant who went bankrupt.  This was a smart person who was great at accounting, but not so great at business.
So, rather than being prepared to answer any objections (which is still a great idea) work out how you can pre-empt the question by building perception, trust and appreciation for your value long before you even submit a price.  If you want help – give me a call on 0411 622 666 or connect to me through my contact page.