What is the perfect blog length?
The perfect blog length really comes back to what your objective is.  Do you want reader engagement, or is your focus on demonstrating your expertise?  Possibly you are writing blogs for your website to keep Google happy and bring lots of prospective leads to your online door.  Your objective may be even a combination of these, and more.
Read 9 Reasons You Need a Business Blog
When I business coach clients, I am always emphasising the importance of planning, goal setting and having purpose.   When it comes to writing a blog, then you need to have a purpose also, in order to then write the correct length of a blog post.
If you are writing for engagement
– and are seeking lots of comments, feedback which will be discussion focussed, then aim for 275 words.   Honestly, I feel that if you write less than 200, you're almost just tweeting , so I would say aim for 275-300.   This length allows for quick read and lots of comments.  Might I say, it's already really easy to spit out heaps of short blogs of this length so ideal if you are somewhat time starved.   The less is more concept will work for you.
However, if your goal is for the next level, being social media shares
– then you do have to commit a little more to paper (electronically speaking of course) and aim for between 600 and 1200.   At this level, people on social media will happily read and share.   At this level also, the Search Engines will accept you and will give you reasonable rating plus you will be giving your reader enough information to determine your expertise.   It's not the SEO sweet spot, but you're certainly getting there.   Quite frankly, my personal optimum level is 600-800.  It's a balance between being able to get something out, and giving it enough 'meat' that the reader can get into something and  we can deliver some decent education … which in turn will demonstrate our knowledge and capability.    Interestingly the standard length for newspaper or magazine articles is 750-800 words.
The next level is where the search engines most favourably like you.   That is the 1200-2400 zone.
– Personally, I find these articles too long, we're almost getting into the 'white paper' 'e-book' area here, but this is the optimum zone for our best friend Google.   Google just loves this length and it's not me making it up – below is a graph from the SerpIQ website (http://blog.serpiq.com) which graphs the results of their research.   The logic behind this length is that if you're writing that much you will have spent a reasonable amount of time researching the subject and will give it some meat.   A well-researched article will also most likely have not been rushed and hastily spat out – but rather given time and effort.  This allows the search engines to determine the topic of your blog and its quality.  However, be warned, don't just waffle, prattle and fill up space for the sake of it.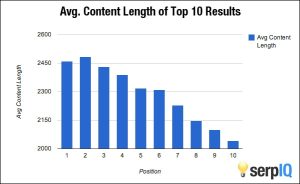 You are probably wondering what your ideal perfect blog length is?
Go back to your purpose and let it be YOUR length.   If you have said what you want to say and it's 400 words and you are done – then you are done!    If you have hit 600 words and still have heaps of great information to add, then go for it and keep going.    I'm a fan of variety, so some of my articles are as few as 350 words and others somewhat more.
So to summarize the perfect blog length:
275 – 300 words is ideal for quick online engagement and discussions.
600 – 1200 words is perfect for social media shares and is the nice middle ground where SEO will still be kind to you.
1200 – 2400 words and you are in the good books with the search engines and are at optimum SEO quota.
Remember what your purpose is and do what YOU are comfortable doing.    Finally, if you are going to write a very lengthy, well researched and informative article, please ensure you are writing something which people want to know about.   What is a problem that you are solving?   Is this a topic people are interested in?   If your article is longer, then be sure to provide heaps of details, facts and information and please, do try to keep it interesting and not put your reader to sleep.
Happy blogging, and if you are needing assistance with creating some blogs to put on your website and share on social media, then I would be happy to discuss with you my blog ghost writing services, just call 1800 77 65 61.