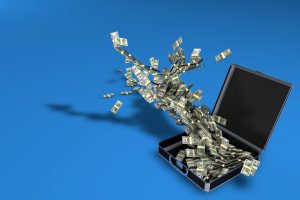 I wanted to share a story with you.  A true story.  A few years back I lost a client worth $12K per annum.   It was my fault, although at the time I was a little peeved at the lack of understanding from the client.  Let me tell you what happened.
A very close family member was deathly ill.   It has occurred very quickly and the outlook was not good.   I was dealing with family, up at the hospital and basically not on my game.  I was slow answering the phone, barely meeting deadlines and not providing an A level of service.  One particular client (let's call him Jack) was new to my service.  He had problems in his business and his own set of challenges.   I explained my situation to him, however, after a couple of days of poor service, he took his business elsewhere.   He was honest with me, and didn't care what was happening in my personal life – he had a problem and he needed it fixed – now.  He was worth about $12K a year to me in business.
Like I said, at the time I was peeved, but now later thinking about what occurred, I totally understand.  That is what I want to share with you.
Business is business
Many clients don't really care about your personal life; they are interested in their life and what is happening in their business.   It's a bit like marketing; don't make it about you – make it about your prospect.  The same happens in business.   You might get away with a stuff-up once, but not after several instances.   I'm not saying people (clients) don't care about you whatsoever – but they care more about themselves.   Remember they are not your friends and family, they are business clients.  Don't make it personal, make it business, and be business-like.
Think about it from their perspective
They have come to you to perhaps get their tax returns done, or have their power point replaced, or even simply get a remedial massage.   They have come to you to either solve a problem or provide something of pleasure (ie the massage could be fixing their sore back, or simply giving them a relaxing massage).   Painting the spare bedroom may not be critical in your books, but to them, they wanted it done badly enough to call you, get a quote and engage you for the task.   So … their expectation is that the job gets done, gets done well and gets done when you promised it would.
I was recently at a professional office and waited 40 minutes for my appointment.   The consultant's receptionist apologised and said he was just finishing up a letter.   Maybe her perspective was that he was doing something productive.  My perspective "I'm sitting around waiting while you do paperwork?"
Apologising wears thin pretty quickly
 Certainly apologising is the right thing to do, but if you find yourself constantly having to apologise for missing deadlines or stuffing up – then you have a serious problem.   After a short amount of time, people get tired of hearing (or reading) "I'm so sorry".  Sometimes you will know if you lost a client or customer, other times you will not.  They simply will not return to your service.   Stop apologising and just get it right!
Stop making excuses
The same goes for excuses – no one really wants to hear your excuses.   It's a bit like the old line "My dog ate my homework" … instead of blaming everyone else, or something else, take responsibility.   Again, clients don't want to hear your kids are sick, the dog is off its food, your goldfish died, the internet is down, your computer is slow, or even that you've got a migraine.  More importantly, take charge and take action so the excuses (and apologies) are not needed.
Don't leave things till the last minute
 You know Murphy's Law (if it can go wrong, it will, at the worst possible time), so don't leave things till the last moment.   If your deadline is the 30th of the month, then aim for a week or more beforehand.  I've worked with people who have deadlines which they are aware of at least a year in advance (tax returns, BAS lodgements, writing deadlines etc) and it still amazes me how often people will wait till the day (or night) to action a task due tomorrow, which they knew about weeks or often months in advance.
Plan for the unexpected
 Whether it be internet dropouts or your printer running out of ink, pre-planning for these things will make your life easier and help you meet others expectations far better.   Things happen – you get a bad headache, family drop-in, an opportunity arises … by being ahead of schedule, having spare cartridges, servicing your equipment regularly, you have time and resources to manage the unexpected and reduce the instance of things going wrong.
Specifically have a "Plan B"
 In business (as in life) things happen.   If a close family member was taken to the hospital, or you broke your arm, got the flu or won a million dollars you had to spend in 24 hours (bit of wishful thinking there), then what is your alternative plan?   Do you have staff trained up who can cover for you?   Alternatively, do you have an associate who could step in?   It may even be a case of having a quality competitor you can refer that person to in this instance.   It is far better to refer a job to someone (even a competitor), than to let down a client and earn a bad reputation.
"Plan for the worst

Hope for the best

Take whatever comes in between"
Remember this also – a brand new client doesn't know you.   You haven't earned 'Brownie Points' with them, so there is less 'forgiveness' for a missed deadline.   Someone you have been servicing exceedingly well for many years will be more understanding.   They will acknowledge that the situation must be dire as you are always very reliable, so will be more understanding when something goes amiss once in a blue moon.
None of us has a crystal ball, but we all know that things can get askew.   Pre-plan so that the impact of 'emergencies' is minimised (at least from the client's perspective).  Have a plan B and do your best to make things happen and reduce the instances of you needing to apologise.
For more business coaching tips, email me at donna@donna-stone.com.au or call 0411 622 666.
Read 7 Things I Did for My Business Coaching Clients Last Month.