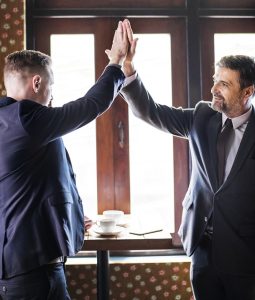 As a business coach, I'm often asked exactly what I do … so I thought this would be a great opportunity to share some real examples –  the things I did for my business coaching clients last month.  Now obviously to protect my clients, I may have changed a few of the details or their industry type in order to maintain their privacy.
7 Things I did for my business coaching clients last month
1. What do I do?
My first client is a tradie; he has a tiling business and an opportunity has been put in front of him.   We had a great session (albeit somewhat longer than scheduled) and he asked me a heap of questions.   Included in this opportunity were some assets he would need to purchase and he wasn't sure if the asking price was right.  I didn't know, but I knew where to send him – plus also to determine if the equipment was in good condition or likely to need repairs soon.   What was probably most valuable for this client is that there were questions he didn't have, but which I asked.  (I frequently play 'Devil's Advocate') and raised a whole lot of thoughts, issues and things to consider which he hadn't even thought about.   He's walked out of his meeting with eyes much more open, a greater knowledge and knowing what to ask, look at and consider.
2. My quote is just a quote.
My client didn't actually ask this as a question, but rather we were talking about conversion rates.  How many of his quotes actually become paying customers?   We talked about a few things and I had a look at his quote.  It was ok (comes out of his Xero file) but it was all about price.   Instead, I suggested that he take it further and add in more information to the quote so that it's not just about price.   Why should someone select his service over, say, his competitor?  What do others say about his service (testimonials)?   Already in less than a couple of weeks, he's seeing an improvement – purely by improving the sales process.
3. Help! I think we need to sack our bookkeeper!
Now, in this case, my client was convinced the bookkeeper needed to go.   The bookkeeper was all over the place in when she visited.   Reports were never provided and when they were, they seemed to be really wrong.   Now before I go and say "Yep, let's sack her" I wanted to investigate first.   Having an accounting background comes in handy very often.  A few things came up in my research.   Firstly, the bookkeeper was never given any clear direction … so thought it was ok to "come when I feel like it".   The bookkeeper was happy to set a routine, as was my client.   Next, the bookkeeper had been told a few years back "I don't want reports" so she was following instruction.  In digging further I discovered my client actually just didn't understand the reports, so what was the point of getting them?   We spent some really useful time in improving her understanding.   People feel silly asking questions but this is your business and you should understand your reports.   I also know that unless you have an accounting degree or some training, you cannot expect to know everything right from day one.   Last month, the reports arrived by the 20th and my client and I had a great discussion about them.  (I'm cc'd on that email and reviewed them too).   Yes, there were a few things the bookkeeper needed to correct and, with my guidance, I'm pleased to say the books are far more on track and my client is happier and far more informed.   The bookkeeper is much happier too!
4. We're too busy – we just can't cope with the workload – what now?
This business is doing super well and is getting more and more work on board.  Great news!  Well, initially it wasn't so great news because they were booked out months in advance and really didn't like having to turn customers away.  When the price is right or the reputation excellent people may wait awhile, but cannot wait forever.   After some discussions (and outweighing the pros and cons) we decided to recruit another team member.  The business owners didn't really know how to do this … but as someone who ran a Private Employment Agency for over 3 years, I was able to give them some great resources, tools and strategies to get the right person on board.  Once they have that person, they also now know it doesn't stop there.   They need to support and nurture that new team member and to cover obligations around employment, WH&S etc.   I know that it costs 2.5 times a person's salary to replace that person (true stat) so helping a client get and keep great staff is super important … I'll be working with this client to onboard their new person – and retain them.
5. I need to put a budget in place!
I'm actually working with 3 clients at present to get budgets in place in their business.   Initially, when I talk about budgets, I'll get either "yes!" or a scowl that tells me they don't like that idea one iota.   Sometimes it's about mindset … when I say "how about planning for profit" and I see that scowl turn upside down.   Whilst the principles of setting up a budget is the same, every business is different – so I take a very personal approach to budgets.  In some cases I do it for the client, in other cases I guide them step by step and teach them how to do it … lessons learnt which will last a business lifetime.    Naturally, once the budget is set up, I am working with the client to review 'budget versus actual' reports to see what happened (good and bad) and where improvements can be actioned.      
6. Agggghhh – people keep taking advantage of me!
I remember hearing/reading years ago a term "You deserve what you tolerate" and this is so true.  When someone takes advantage of you, it's because you let them.   In this case, the client was having cancellations at the last moment, or worse, when she turned up would answer the door and then apologise they would need to reschedule.   I've actually seen this in a few different businesses – it can become very frustrating.   It's incredibly important to have clear terms and conditions in writing (clients and staff) so that you don't end up being abused.  Some clients will try to "cut out the middleman" and steal your staff.   Some staff will think its fine to copy your IP and set up in competition against you.  Some clients think its ok to cancel with 1 seconds notice.   Get clear terms, conditions and contracts setup and reviewed by a qualified lawyer, and stop accepting poor behaviour that you do not deserve.
7. I'm just not motivated!
One aspect of what I do is motivating business owners to do what needs to be done to achieve their goals.   It might be getting them to stop watching Netflix in the middle of the day or get caught up on Facebook.   I dig a little deeper and find out why they are not motivated.   Sometimes it's something so simple as a messy office space or they are fearful of growth.   Frequently, it comes about because there is no 'boss' watching over them.   Whether it's my weekly (and even a few times daily) accountability or having a clearly set plan – having someone checking on you and prompting action can make all the difference.   New clients will try to skip a week or delay the appointment and it's usually because they haven't yet done their homework.   We can all make excuses why things don't happen – so I show clients a different path … instead of making excuses, blaming others (or situations) or being a 'victim' instead take responsibility, step up and if you want a different life (or business) then what are YOU going to do about it?!
As a business coach, my role as you can see is varied and diverse.  Some clients are needing help in growing their business and getting their marketing on track.   In other instances, their marketing is working a treat but they just are not converting as well as they should.   They may be experiencing frustrations and challenges or perhaps just need a clear (and experienced) head to bounce an idea off.   If you would like to know what I can do for YOU please give me a call on 0411 622 666 and I'd be happy to have a chat with you.
Read How Important is A Great Bedside Manner in Business?