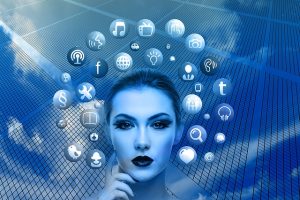 Our world is changing – and hugely changing.  It's expected in the next 10 years that we will have the equivalent of 100 years of change.   With innovation and business and communication, everything is in constant flux.   The smart business owner must be flexible, innovative, change-friendly and able to adjust with the ever-changing times.   I was only talking to one of my sons last night who is doing his Bronze through lifesaving … they are now starting to use drones to drop inflatable rescue buoys out to patients in the water.   My idea of having a USB port in the back of your head to download and upload information is not so crazy!
Read 7 Ways You'd be a Fool to Cut Business Costs.
Finding Balance with Innovation in Communication
Being Online
A huge part of business is communication.   How we talk with each other and how we do business.   Whether or not you have a Yellow Pages listing, if you cannot be found online – you essentially do not exist.   You absolutely must have a website and ideally Facebook page and LinkedIn profile.   People say "but I get business from word of mouth".   Great, but before someone contacts you, even via word of mouth, they are likely to check you out.   Can't find online … likely won't call you.
Opportunities on social media, especially Facebook, appear in a second and pass sometimes within minutes.   Someone can put up a post asking for recommendations to a great accountant.   Within an hour they have 30 names and have likely already connected with someone and made a selection or at least booked a meeting.   Everything moves at the speed of light.
So, often as a business coach, I am asked how do business owners deal with that challenge whilst still getting work done.  Often, having a team (or an assistant) help you with social media will allow you to attend meetings and do client work.   What I also do is take a 5-minute mini break about once an hour – stand up, stretch the legs, scan my social media notifications, messages and then get back into it.   The trick here is to not get caught up in the general vacuum of social media, otherwise that 5 minutes turn into 5 hours.
Have Your Business Cards with You
So with all the above happening via social media, do we throw out our business cards and ditch our phones?   Absolutely not!   I had a recent experience where I met a person at a networking event (yes, people, we still network and actually meet people F2F (face to face) and in that instance, you must have a business card.   I chatted with this person for about 10 minutes, liked what I heard (thinking this is someone I could refer to), but this person didn't have a business card, adopting the logic "just connect with me online".   I did so, but in order to check out the business online, I had to search for the business, search for a phone number, search for an email because I had a client I wanted to introduce to them and that client was not a Facebook friend of mine.  This person could have made it easy for me to refer to them had they given me a card with all the details in one spot!   The smart business owner will adopt new ways, whilst maintaining traditional forms of communication as well.   So no – do not throw out your business cards!
Use the Phone to Call
Another thing I am seeing is that people are texting or messaging more or living on email.  Hey, I type about 90 wpm but still if it's more than a paragraph or it's going to be a back and forth discussion, pick up the phone.   I am big about being time-efficient – which is why text or Messenger is brilliant for reminders, confirmations or a quick question.  Another time to pick up the phone is initial liaison with a new client.   The best relationships are built F2F, second best is over the phone, or via Skype.  Texting, messaging or email just doesn't work as well in those critical initial stages of a new relationship.  Maintain a good balance and recognise your clients will have different communication preferences than you.   Do you ask a new client how they prefer to communicate?
When it comes to your team, there are a (almost) million ways you can communicate with them.  Skype messages work nicely for those in an office environment.   There are also heaps of Apps from Asana to Trello … and lots in between.   Stay connected to your team, even if it's not in the traditional ways of meetings or email.
Communication is no less important today as it was yesterday – just very different.   If technology isn't really your thing, then it's time to change that.   Embrace change, learn something new at every opportunity and ditch that technophobia mindset.  Stop saying "I'm no good with technology" and instead say "I'm going to be great with technology and learn something new at every opportunity".    The world is changing, are you changing with it?
Call me on 0411 622 666 or email donna@donna-stone.com.au for more business tips.