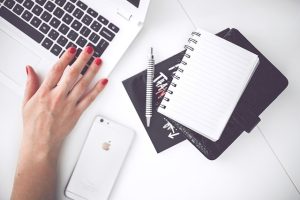 There is a bit of an art to writing and to writing blog content which works well for your business.  When you are writing, you need to wear many hats; you are an entertainer, educator, marketer and SEO expert.  Well, maybe not an expert, but you do need some basic SEO knowledge.
Read What is Missing in Your Business Communication?
So here are just some of my tips around blog and newsletter writing which tells, compels and sells:
Be in your customer's shoes
As you write, be in the shoes of your customer.   What does your customer want to read about or know about?  Sure, I know YOU have an objective.  It's probably to educate or sell (or educate in order to sell).  Having a goal and objective is great, but how will you achieve that?  People often talk about the 80/20 rules; educate 80% of the time; sell 20%.  Well, my formula is more 90/10.  By sharing great information and knowledge, you don't need to do a hard sell; just mention your product or service at the end that you wish to promote and that is enough.
Headings are critical
If the heading or subject (if an email newsletter) doesn't capture your reader then what you have written is dead to them.  Or worse, they will unsubscribe and you are dead to them.  Your heading should be no more than about eight to ten words and should be both enticing but also informative.  These days, people are busy.  If you are writing about the perils of some types of baby food, I will pass (my babies are all adults now) but if you write about business, marketing or a cool investment tip, I might stop and read.  Headings like "10 Ways to Beat your Competitors at Marketing" would be pretty good (don't take that one …. I'll be using it).  The boring version might be '10 Marketing Tips" which could be exactly the same article, but I know which one would get better traction.
Your opening paragraph
Your first sentence and first paragraph should be critical.  When you write a website, you do the first page (your Homepage) last and you may find it easier to do the same for your blog.  That opening sentence and first paragraph should rock.
Length
I have specifically written blogs about length, but in short, the perfect blog length is 1250 words as far as Google is concerned.  Hey, if it's 1100, 1200 or 1300 that's fine.  But 1250 is the absolutely optimum blog length.  Why does that matter?  Well, when you are blog writing, it's usually for two purposes.  The first is to talk to people, connect, educate, sell a little and generally engage with them.  The second purpose is to befriend Google and as we know, Google loves fresh, new and original content.  Websites no longer are created and forgotten.  You need to keep adding great content.  Why does Google like 1250 words?  Simply because it's enough to show you know what you're saying, you may have researched your topics … basically, there is enough 'meat' in the article.
Original content
I've said it before (in many other educational pieces) but it's worth saying again.  Ensure your content is original.  The best way to do this is to run it through a program like Copyscape which checks the internet for other uses of the phrases and words you have used.  If you copy from someone else's website, two things happen.  They get rewarded and you get demoted in ranking and positioning by Google.
Keywords
Yes, as the SEO experts tell you, the keyword is important, but please don't write an article thinking only about keywords.   Write for a human, but keep keywords at the back of your mind.  A good marketer and blog writer will instinctively put in the right amount of keywords in order to keep Google happy but also to engage with your reader.  If you 'stuff' keywords into your blog, again, you will get penalized.  The days of keyword stuffing are long gone.
Numbers or dot points are magic
Breaking up your piece into either small headed paragraphs (as I've done here) or dot points or numbered points is great because:
It's easy for the eye to read and helps improve comprehension
Some people do a quick scan – if a sub-heading grabs them, they will stop to read
Numbers make a great heading "9 Magical Marketing Tips for Small Business"
The sell
Ok, now we are at that last 10% where you get to sell.  I personally like to give first and provide great tips and then do the sell at the end.  Keep the sell short and succinct and remember some basic marketing concepts.  First and foremost, what is your objective?  Do you want someone to sign up for your free newsletter or buy your book or check out your latest workshop?  Then you need to know your customers and prospects.  What is bugging them?  What do they want?  What keeps them awake at night or fills their dreams with desire?  Particularly around pain-orientated sales, sell a solution, not the product or service.  Remember the art of asking questions – they work great in a sales environment.  Don't make your sell long, don't waffle and give the person a clear call to action.  What do you want them to do next?  Don't make them guess or wonder – tell them – clearly and succinctly.  That is your 'call to action'.
Repurpose your content
I'm a big one for getting the best value out of every exercise.  A newsletter may end up going on your website and should be cross-promoted on social media.  A blog should be promoted on social media also.  Don't panic that maybe someone on your newsletter mailing list may also see it on Facebook or LinkedIn.  Given how quickly things move through timelines, those chances are slim, but even if they do, great.  If they didn't get a chance to read it before, then they might now.  Remember though, anything you put to your website should be original and fresh content and when it comes to LinkedIn and Google/website blogs, if you post exactly the same article to both, then it's considered dual content.  It doesn't have to be hugely different, only at minimum 14% … so just rewrite your LinkedIn piece a little so that it is fresh.
So you can see how critical writing is and I've given you just a few tips here specifically on blogs.  When it comes to business writing, I have only just scratched the surface.  There is much more … which I am sharing in my upcoming Writers Retreat.  We are going to cover:
Marketing
Strategy
Blogs, Newsletters & Email Marketing
eBooks
Writing a book.
I have had six books published and boy, does being a published author give you credibility.  So many people think it's almost impossible (I did at first too) but with the know-how … it's not that hard.  I'm also going to share tips on how to find the time to write, where to get ideas, the recipe for building your content and how to put it all together.  These are super small groups and I will be personally helping each person – so that you can walk away with several smaller pieces, or a larger project completed.  Ok, if it's a full-size book, no promises we'll get that one completed, unless you seriously turn the midnight candle  🙂  Check out my writers retreat at https://www.donna-stone.com.au/workshops/