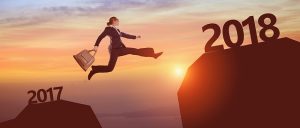 Setting goals, as we all believe, will lead us to success. We make plans, put ourselves into the business, and work hard until we reach our goals. It's now approaching the end of 2017 and for some of you out there, 2017 may not have been your best year.
Read Is Your Business Like An Emergency Room?
Why 2017 Didn't Go Well for You as A Business Year
Competition or Economy
As an experienced coach, I hear this a lot. Putting the blame on other factors and certainly things like your competitors or the less than robust economy will make it a little harder. However, these are just excuses. We make ourselves victims when it's all about relegating the responsibility and blaming others. Let's ask this question: Were there businesses out there (perhaps even your competitors) who had an amazing year? I would say yes. Didn't they have the same competitors as you? They certainly experienced the same economy as you. Stop blaming others, stop looking for excuses and just get on with your own business and what you need to do. Yes, I know I'm being tough but sometimes business owners need a little bit of hard-hitting advice, delivered with a strong care factor.
Doing what you need to do
So many businesses are stuck on what they need to do and how to do it. Yes, I even coach some coaches who are a little stuck initially as well. There are all good intentions but just a lack of skill, knowledge or ability will hinder your performance. Here is where I suggest one of three things should happen:
• Get a coach or mentor or advisor to guide you
• Learn the skills; either a book, workshop, course or audio
• Outsource to an expert – particularly where it's a high-level task or something you know you just are not good at or do not enjoy.
What didn't you do best this last year? Was it marketing, bookkeeping, social media, or something else?
I just ran out of time!
This one I get. In this last year, I grew my coaching business, started another business, published two books and started a third. I think I can safely call myself the 'Queen of Busy' but many ask me how I get so much done. Here are the ingredients:
• Plan the quarter in advance; have clear focus on what will happen.
• Avoid deviation to the plan; if a new great idea emerges; maybe it gets scheduled for next quarter. Staying focused on your goals will help you achieve them.
• Have a daily list of 2 or 3 business building growth activities set and tick things off as they are done.
• Be disciplined and avoid the distractions that steal our time.
• Tackle the 'yuck' activities first and get them out of the way.
• Be smart about time mastery; become an expert at this and the rest will happen.
• Allocate a time of the work to work on your business. Don't allow other work, clients, staff or prospects to cut into that time. Things don't happen if you don't make time for them to happen.
Know that even more marketing is needed
Around the middle of this year, I attended a Google seminar and learnt that the marketing touch points had gone up from 7 -11 to a whopping 22. A 'touch point' is when a prospect hears or sees us; it might just be seeing our logo or an image post on Facebook or reading a blog. On average, they need to see/hear about you this many times before becoming a customer. This is average, with powerful marketing the impact will be more effective and you can reduce this. The point is that you need to do more to get more. You cannot sit back with a website you touch once a year (at best) or post on social media once a week or run an advert once 'in a blue moon' and not be getting worried that the enquiries are becoming less and less. You may not like that now, more than ever, we have to market ourselves even more, but reality is that your competition is doing more and being seen more and more.
Moving forward
So if this year wasn't your best by a little, or by a lot, don't worry. You can't change history, but you sure can change the future. Stop blaming others and take control of your life and your business. The biggest thing you will need to do is embrace change. Recognise there is room for improvement and that you can do better. Late last year I started working with a young tradie brand new to business. He (because this was the view of his old boss) didn't believe he would need a website. You know the expression "You can lead a horse to water …." Though fortunately, he was not one stubborn mule. After a month or two of relative quietness (leads wise) he started to think about what I was saying about getting a website. He checked out his competition and saw many of his competitors did, in fact, have websites. Some pretty ordinary and some really awesome. He agreed to build a website. Knowing what I know, I wrote him about 4 blogs to get it started and wow, when he Googled himself, one of the blogs actually was on page 1 almost immediately. He would ring me regularly with exciting news of a new lead he had got from his website. Initially, he had awe and surprise in his voice and with time, proud achievement. Down the track I said he had to get the back end reviewed for SEO. He wasn't on board immediately, but perhaps a week later, agrees. Fast forward … this young man is getting regular and consistent work just from this one marketing strategy in a business which is only 12 months old. With him, as with all clients, we don't rely on a single strategy and he now has a number of lead generation strategies.
Around December and January are excellent times to review what is happening in your business. Yes I know we are busy with Christmas parties, year-end events, kids' carols nights, sporting trophy days and such ….however, don't allow yourself to get caught up in life and Christmas parties and neglect your business this Christmas. I work most of December and January (excluding the week between Christmas and New Year) as this is a busy time for me.
During my goal setting sessions I:
• Review what's worked or not previously
• Draw from the client what the real goals are
• Assess those goals for suitability to grow the business
• Structure and prioritise the relevant goals for ultimate success
• Plan those goals out so that there are timely action steps to make them happen.
Want to know more, simply email me or ring 0411 622 666. Your success can be just a Stone's throw away. Here's to your extraordinary 2018!
P.S. Whilst a goal planning session and ongoing coaching work best together, it is not compulsory to do both together. You can do one or the other with me (or both). Not perfect, but far better than nothing.