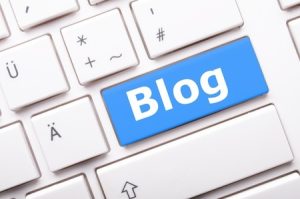 From my experience with dealing with many small businesses in Australia as a business coach, I know that many businesses still don't see the value in blogging.  I get it – it takes time, sometimes you're stuck on what to write and, of course, maybe writing just isn't your strength.  However, I must share that there are heaps of great reasons that Australian small businesses should be blogging, and blogging regularly.
9 Reasons for Blogging
Google will love you back
I know from first-hand experience that frequent blogging will improve your SEO (Search Engine Optimisation).  In fact, I've been sitting on page 1 of Google for more than two years.  That's competing with some of the 'large boys' who I suspect invest a good chunk of money to get page one ranking.  We all know that page one is gold; people might venture to page 2 (maybe) but rarely much further.
Increase your website traffic
Many of us want to get more traffic to our website.  The more people who visit, then the more people who are more likely to learn more about you or your business services and (assuming your website content is good) then the more likely they are to reach out and enquire about your product or services.
Increase your online presence
Again, like getting more website traffic, you will also want to increase your online presence.  It may be that you blog for other businesses or share information on other sites.  The backlinks can be beneficial for your own website, but it's also about being more present online and being more seen.  In fact, blogging for other sites will often expose you to an even greater audience you might not have otherwise gotten in front of.
Get more sales
Be honest, if you're in business, you want to make a dollar or two.  The face of marketing has changed hugely over the last decade.  Whilst print is not dead, it's certainly not as popular as it was.  Business owners need to have alternative strategies to their 'old favourites' as the old ways may not always work in the future.  Blogging is one such strategy which does work.  More visitors = more leads = more income = more profit.  Makes sense, doesn't it?
Blogging saves you money
Yes, even if you outsource your blogging, it's going to be less expensive than spending a fortune on SEO.  And yes, some experts do cost a good amount.  A good number of them get results although there are no assurances.  I should also say that blogging is not a guarantee either and in all honesty, it won't make a quick difference.  It's consistent and regular posting that makes bite-size improvements to your ranking.  In fact, once I was established on page 1 of Google, I actually eased off a little with the frequency, but of course, never would stop (that's just suicide).
You give value to others
For some of us, we do want to share the love and share our experience and by blogging, especially in business where I am sure a good number of you have some excellent experience, then share that experience with others to give them value and assistance.
Be the expert
By sharing your expertise, you are now being seen as an expert.  As an expert, it's so much easier to sell your services (or products) than if you're an unknown or someone who appears to be just following the pack.  Being an expert develops trust with your readers (who may well be or become your prospect).  Having written 500+ blogs, I'd like to say I'm an expert business blogger as well as a very experienced business coach.
Develop a relationship
It's been interesting.  I've had new clients who have come to me through my blogging.  When they reach out to me, they talk to me like we are besties and as if they know me.  Well, actually they do, even though this might be the very first time I'm talking with them.  When it comes to then converting them to a customer, the task is so much easier.  I've already built a rapport with them, developed a relationship and essentially built like, know and trust.  All the aspects that go towards a great sales process.
Develop a community
Somewhat leading on with expertness and relationship building is also developing a community.  Your community may well share your information or refer you to a prospective customer, or introduce you to a new client.  There are many business leaders out there with exceptional communities that go beyond the expertness or relationship to more.
So as you can see, blogging is a marketing strategy you should not be ignoring.  Here are your options:
Do it yourself. If you're comfortable giving it a go, then read my blog on How to Create Incredible Blogs. However, I appreciate that it's not everyone's cup of tea and not everyone has time to sit there and write or perhaps not have the writing, marketing or typing skills.
Get your staff or family to do it. Again, ensure that they have the skills and get across the right message – but sometimes you have a hidden gem there and it's just a matter of giving that person a go.
Offshore it. I tested this a while ago and it just doesn't work well.  It's not just about the person having English as their first language, or understanding your business or industry quite well, it's the skill to write a piece which has a subtle marketing undercurrent, which is engaging, interesting, informative and at the end of the article, has an effective call to action.  Marketers get this, others often miss it.
Outsource to an expert. Ok, I'm putting my hand up for this one.  Being an Australian business coach gives me the experience, knowledge and marketing ability to get across your educational piece, whilst selling, without it being a blatant and boring sell piece.  Headings need to engage, you need good use of keywords (without what Google refers to as "keyword stuffing").  I have a rule generally in all aspects of business writing – whether that is a newsletter, article, eBook or blog – apply the 90/10 rule.  That is 90% give and 10% sell.  Here is a writing tip, don't be all about sell, sell, sell, otherwise people stop reading, delete and worse, will unsubscribe.
So, here is my sell.  I write blogs (900 to 1250 words – which I know is the optimum length) for $165 per piece including GST.  I'll even think up the title, do any relevant research (within reason – sorry guys, couldn't educate on how to reformat a motherboard).  When I give you that blog, it's been spell-checked by another plus it's been run through a plagiarism screening program.  I know that Google loves fresh new content, and will, in fact, penalise you if you copy someone else's content – whilst at the same time giving a bump up to the site which was copied.  (Little joke) I say to my competitors "please copy my content".  My own blogs tend to have a casual and friendly tone to them (as if I'm talking to you) and this works great for some industries, but others I appreciate will want something more formal – so I adjust the tone to what you need.  Like to know more, or book in my service, it's easy – one quick call takes care of it all, or send an email to donna@donna-stone.com.au.