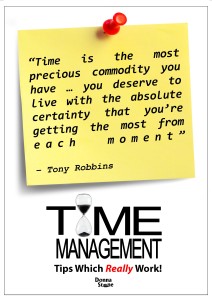 There is no dearth of books to help you to be fit, smart and successful. They give numerous solutions but if we ask you what is most important then like many others you will be confused and start looking for answers. In everything we do, time management is the key.
Shall I exercise in the morning or evening? Shall I opt for cardio training or the weight training? Do I have to hone my writing or presentation skills? Shall I learn a new skill or a new art? If I have to network, then shall I network among peers or do I have to network among different industries? These are just a few of the many questions you will ask yourself.
As you move ahead in your life and career you have to make choices and it can be a daunting task to try and make the right selection.
Why you need time management?
It has been noted by many professionals and management consultants that the best thing you can do to make things work in your favor is time management. If you can tame your time and use it wisely, you can devise your routine to your needs and will have ample time to take care of all commitments. With efficient time management there cannot be any hindrance in your journey to success. Manage your calendar properly and it will not be difficult for you to find what will work for you and what will not.
Decide your priorities and plan your time well and you will be able to attend important family commitments, like going to the parent-teacher meeting or the child's sports meet, while still taking the best care of your professional responsibilities. So time management with priority management is the mantra to win the game called life.
Tips for Time Management
Develop the habit of making a "To Do" list. It will ensure that you do not lose sight of important things and at the same time it will guarantee that you do not waste time figuring out what to do. The "to do" list will always be changing. Spend a few minutes in the morning on your list, set the priorities and then follow the plan.
Besides prioritization and making a to do list, here are some excellent tips to have better time management. They have helped me and they are sure to help you also:
1. When you are focusing on something, avoid interruptions. If your phone rings or an e-mail comes, do not get distracted and complete the task you are doing first
2. Take the tougher tasks in the morning as you will have the best of energy to tackle the difficult things. Make the afternoon the time for easier things.
3. Make a list and when you cross out a task after doing it, it can be a real satisfying experience.
4. If you change jobs be ready to change your ways also. If you are a manager, you must learn to delegate tasks and then follow them to completion. If you are a business owner, then be ready to be many things to many people.
5. Do not let the time management discipline slip or you will end up increasing your stress levels.
6. You must know when to use paper or technology to your best advantage.
7. Listen and evaluate all ideas but work only on those that are best suited to your needs. Do not waste time and energy doing anything and everything.
8. Time management is an neverending task. It does not end with doing things, rather you should evaluate the effectiveness of your ways and improve on things if the situation needs it.
If you follow the simple tips given above, it will not be difficult to do everything that is necessary for your success.
Best of luck to you all for proper time management!
Let Money Gemstones help you to grow your money with time management.