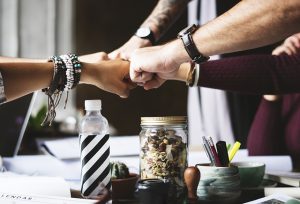 There is a fine line between being warm and friendly and overfamiliar in business. It's true, familiarity breeds contempt and there are some cases where you need to behave appropriately.   Let's look at some different situations.
Read 8 Great Reasons to Build Your Business Communication Skills.
Here's how you become overfamiliar in business:
The name you use.  
It's interesting how people have the need (at least in Australia) to shorten names.   Firstly, it's very important to use people's names, but use the name they have given you.   I recently had an enquiry from Samantha.   Was I tempted to be friendly and say "Hi Sam"?   Absolutely.   But this person had signed her name as Samantha, not Sam.   So until she either says "call me Sam" or I ask "do you prefer Samantha or Sam" and get the ok for the shortened version – I need to use the name given to me.   Likewise, I know another person called Matthew.  This person always signs his emails Matt and if he leaves a message, says "Hi it's Matt here … " so to me I've been given permission to call him Matt because that is how he identifies himself.   Either get permission, see how they identify themselves but never presume it's ok to shorten someone's name.
Sweetheart, Darling or Dear.  
Grrrr.   These terms of endearment really annoy me when they come from strangers.   Someone who is super close to me, knows me well and has known me a while might have the right to call them these things, or D or Don … but when a stranger or someone on social media does so, especially on LinkedIn, it's just not appropriate.  LinkedIn is a professional network, and it's not professional to call another person in business 'sweetheart'.  Actually, it's a great way for me to disconnect from you.   It's no different if you meet at a networking event, business function or on a professional network like LinkedIn … keep it appropriate.
Hugs.  
Again, this is different from person to person and how well you know someone.   Being a female, men often go to give me a peck on the cheek, rather than shake hands.   Here is my perception of what's appropriate or not.   Male or female – if you know the person well, and would consider inviting them to your birthday party, then it's appropriate enough to give them a peck on the cheek or a hug.   If you don't know them well enough that you'd consider inviting them into your home, then probably a hug or kiss is not appropriate.   Certainly, if it's the first time you've met someone, regardless of how 'touchy' or 'feely' you are – hold back.   Until you get to know that person, you don't know what's happened in their past – perhaps people being overly familiar brings back a horrific experience … you don't know, so just take it easy.
Photos.
With social media so prolific these days, again in business (and it's not a bad thing to apply to your personal life), please be respectful of your associates, acquaintances and friends.   Before you post photos all over the place of them, ask if it's ok to pop that up on Facebook or social media.   Whilst some of us live on Facebook, others may prefer to not have their lives plastered across it.  If you are running a business, then particularly you need to get permission, ideally in writing of your clients before posting them on social media.   This is a must with children.
Touching.
Again, somewhat like the hug situation, keep it appropriate, especially in business or the workplace.   Years ago one of my staff commenting about a client who put his hand on theirs to move the mouse (whilst her hand was on the mouse).   Now I know that client and know there was nothing in it, but it comes back to perception and how someone else perceives something and how they feel about it.  My staff member (much younger) was not comfortable so I needed to have a chat with my client.
Language.  
Here is another one to keep an eye on.  In business (and the workplace) keep language appropriate; in other words, no swearing.   This also includes no lewd or sexist jokes.   The same goes in a networking situation.  Over the years I've become adept at observing people and when someone makes a less than appropriate comment, I'll look around the room.   Some people think it's funny and openly laugh.   Others smile; they agree it's funny but recognise it's not really the right thing to say.   Others yet again, look down, look uncomfortable and clearly are 'not amused'.   Remember, some people are more conservative than others, some may be religious, but whatever the reason, let's be respectful of everyone in the room and keep the language clean, the jokes in good taste and remember having a little fun should not be at the expense of others.
Getting to know others can be a bit of hard work.  We need to watch body language, be sensitive to their needs and be respectful, whilst at the same time, starting to develop a relationship with that person.   Using someone's name is one critical step in developing relationships, but as I said, do it right.   My final piece of advice, if in doubt about something to say or do, if you have a doubt, don't do it.
Need more business tips? Email me at donna@donna-stone.com.au or call 0411 622 666.