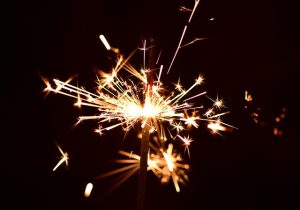 Christmas is one of the happiest times of the year when everyone is busy celebrating and enjoying.  We all put up the decorations, pull out the carols on CD and get into social mode with parties, networking and other celebratory events.  If we have staff, we show our appreciation with bonuses, gifts or parties.  However, (not to be a Scrooge) but with all that enjoyment comes some form of insecurity from the various risks associated with Christmas and what harm can come to your business.
Let's take a look at these risks and how we can avoid them at Christmas time:
1. Cost of downtime
For many (especially non-retail businesses), you can expect 4-6 weeks of quiet time around Christmas (generally the time span of public school holidays).  Whilst some industries are flat out leading up to Christmas, afterwards can be suddenly 'dead'.  You know your industry and it's cycled so be sure to plan for this financially.  If you know a month (or two) will be lousy income for you – make very sure you have other excellent months and have saved money for this time.  The bills will still be coming in – rent, licenses, some wages, phones etc.
2. Potential risk of fire
Christmas lights are often part of the decoration to brighten up the workspace.  However, they are also one of the most common causes of electrical fires.  You should be mindful not to overload sockets and keep the lights unplugged for as long as possible, turning them on only at certain times and not always.  Definitely ensure they are off when the office is not attended.
3. Staff injuries
Staff injuries are not uncommon.  Just because you're handling Christmas decorations doesn't mean that WH&S is out the door.   Ensure that your staff are always well equipped when working with Christmas items.  Avoid trips, falls (especially whilst handling decorations), boxes left on the floor etc.
4. Temporary staff
Often times, many businesses may need to hire temporary staff to help with an outflux of staff.  Factor this into your budget as you will have annual leave to pay as well as the temp staff member.  You may need to use a phone answering service, so don't leave it till the last minute to organise this.  If you are tired yourself, then organise a phone service to give yourself a break, rather than just working through to cover all your staff who are taking a break.
5. Data breaches
Although it may sound rather unusual, according to Symantec, which is one of the leading global network security companies, the most common time for data breaches in business is during the holiday times.  This is mostly because much of your staff members may be on leave and you may be too busy to bother about confidential data at this time, thus giving attackers an opportunity.
6. Shoplifting
Although somewhat rare, there is a possibility of shoplifting.  Crowded stores are often a haven for shoplifters who sneak in and steal away some merchandise.  Always be aware of your surroundings.  There have been incidents wherein groups of shoplifters targeted stores during the holiday season.  Remind your staff to be diligent even when busy.
7. Weather may be an issue
Christmas in Australia is usually during the mid-cyclone season.  There are chances that it may hit your area, causing you a great deal of damage and even interrupt your services.  Frequent flooding has occurred in January and so ensure your computers are backed up.  If you are in a flood prone area, it may even be wise to put expensive equipment upstairs and off the floor.
8. Burglar attacks
If you keep your business closed during the holidays to spend some time with your family and friends, your shop may become a target for burglars.  You may install burglar alarms and CCTV cameras as these little steps can help you a long way if in any case something happens.
9. Christmas parties
Christmas parties are often a part of the Christmas celebrations in almost every other business.  You need to make sure your employees don't overindulge – especially with alcohol, if your party is on-site or it's an official company event.  Ensure also those under 18 do not have access to alcohol (regardless of whether parents say it's ok).  It's wise to provide taxis and keep the alcohol a little controlled.  Lots of food first up will help also.  Be diligent and if you're the boss, it's probably wise to stay sober yourself – just in case.  Don't think your staff won't put a claim against you – however 'nice' a boss you are.  Also be sure to liaise with your accountant before you plan your event; know the tax, FBT and GST implications of Christmas parties and gift giving.  There are better ways of doing things to get a maximum deduction.
So in short, plan for the worse, hope for the best and be prepared.  This will ensure you and your team have an excellent holiday period.
Happy Christmas and may your holiday break be awesome! 
P.S.  For some businesses, the quiet time is a great opportunity for business planning, resetting your goals, updating websites, reviewing your marketing strategies, improving sales templates and more … if you'd like guidance or assistance with any of this, please let me know.  I'm not suggesting work the entire holiday period, but after a bit of a break and recharge, you may be ready to give your business an injection of improvement and enhancement.