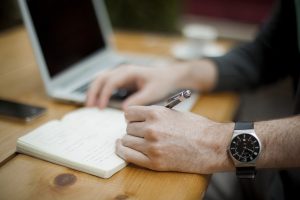 Learning how to write great blogs is really important for your business and for your website ranking.  It's one of the easiest (in my opinion) things you can do to improve your Google positioning and improve SEO positioning.   It's also a wonderful way to demonstrate your expertise and be seen.    As we rely more and more on online presence, it's important that we have as best Google ranking as possible for our websites.
Here are some practical and tried-and-true tips on how to write great blogs:
Getting started – including a subject.

Tied in with the next point, your subject needs to be relevant and then of course that 'kickass heading'.   Start with a keyword search to get ideas, or even Google relevant to your industry what people want to know about.   For those of you who have been in business awhile, the best subjects are those which you are asked about the most, especially most recently.    If you are being asked day in and day out about a certain point just from your clients, chances are heaps of other people want to know the same thing.   Write about what you know, and definitely what is relevant to you, your business and your website.  If you are a (people) doctor and wrote about health of a dog, Google (and your readers) are not going to see the relevance.

The other part of getting started is actually starting.   Set a day and time in your diary to write and stick to it.  You may prefer to write one article once a week or 'bank' up some articles and hit a few at the beginning of the month to get yourself into 'credit'.   What you write, you don't have to post immediately.  I am often months ahead with my material … so if I get writer's block, I'm safe as I have plenty in the 'bank'.
Have a kickass heading.

The heading is important.  It needs to be clear, say what the blog is about, be appealing and be keyword rich.   A heading should be a maximum of 10 words.   Write about what you believe people want to read and are searching for.   Great concepts are:
Numbers … like I have done '7 tips on how to write great blogs'
How to … A little like I did above which is a combination of both 'how to' and numbers
Ask a question … "Is your marketing failing?"
Less/Under headings … "In less than 3 minutes learn …. " or "In under 90 days you can …"
Action headings like "Last chance … " or "Never again …. "
Why headings, like "Why 80% of businesses fail – and how to avoid that".
Subheadings are great.

Just as I have done here, have sub headings which are bolded to draw attention to both SEO and your reader.   Then expand on that point.   Again, ensure that the subheading is relevant and descriptive.
How long should a blog be?

In other words, what should be the blog word count?   Check out my article What is the Perfect Blog Length.

In summary:
Writing 275 – 300 words is perfect for quick online engagement and discussions, especially in briefer forms of social media like Facebook.
Writing 600 – 1200 words is great for more information based social media platforms, like LinkedIn. This length article is great middle ground where SEO will still be kind to you and people will stay engaged to read fully.
Writing 1200 – 2400 words and you are in the good books with the search engines and are at optimum SEO quota. Google needs this size to see you know what you are talking about, have spent time researching and writing and it contains enough 'meat' in order to give you ranking.
Find your style.

Other than ensuring your grammar and spelling are correct, find your own style.   I personally like conversational mixed with educational which gives great information although a little of my own personality and 'slang' are popped in to make it a little more interesting.   On the point of spelling, I strongly recommend you have your work spell checked by another person.   I do all my own writing, but I have my PA spell check, as I know from experience that I simply don't see my own mistakes, even though I can easily spell check for someone else.    Make this part of your process to ensure you look professional, whatever industry you are in.
Can I just copy from somewhere else?

No!!!!  Besides the point that it's plagiarism, it's so badly looked upon by Search Engines that you will be not only penalised, but in fact the site you pinched it from will actually be boosted up.   To my competitors, I say, please copy my articles!   However, I know in some industries there are organisations which have a 'library bank' of articles they invite members to copy and use as they wish.   Whilst quite legal, this is actually just as bad; Google doesn't know you had permission and whoever uses this first will be ok, but every other member who uses that article from the 'bank' will be getting bumped down by SEO.   Google loves fresh, new content!   There are many sites (free and small fee) online where you can check your content for originality; I use Copyscape  but there are also plagiarisma.net and the plagiarism checker from smallseotools.com.
How often should I post?

My message here is to make it regular.   If you can cope with only one article a month, then far better to write one a month and keep at it month in and month out.    If anything, once you cope well with one a month, you can then upgrade to once a fortnight.   If you can write weekly, that is great, but the big message is to be consistent and no less than monthly.   If you write in bulk, that is fine, but don't post them on your website in bulk.
Having said all this, if at the end of the day writing is just simply not your 'cup of tea' where you shine, then I'd love to talk to you about my own blog writing services.  In essence I act as a ghost writer, so you (and your website) are credited with the article and the benefits of having fresh new content.   You can opt for once a week or once a month with no locked in contracts.  If you'd like to know more, simply email me at donna@donna-stone.com.au.