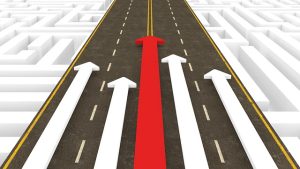 Whether you know it or not, your competitors are one of the best teachers for you.  If you have just started out in the industry and your competitors have been on it for many years now, there is a lot that you can
learn from them.
As a businessperson, it is extremely crucial for you to always keep a check on what your competitors are up to, be it in terms of marketing, public relations, branding or anything else.  While you might be compelled to think that keeping a check on them and using their ideas could be more like "stealing" their ideas, but this is not what you should be doing.  Now, having said that, don't spend all your time focused on your competitors; at the end of the day, you have to get out there and do your own thing.
Looking at how your competitors deal with clients and make business decisions can help you when you are in similar situations.  Look at the after-effects of their decisions, is it good or is it bad?   This way you will be able to make the right decisions when it comes down to your own business.  Don't copy the ideas or even steal them, but learn from them.  Look at their strategies, how they manage things and what could be the reason behind their success.  You need to then implement this in your business, to make your business a special and unique one.   On one of my trips last year, I flew Air Canada, and wow, their customer service was amazing; I learnt a cool little tip from them.   Now that you know your competitors (or others in business … Air Canada is not my competitor) are your best teachers…
Let's take a look at 10 things your competitors can teach you about business.
1. Interaction with audience
Your audience is one of the key factors in your business.  It is important to impress your audience with the products or services that you provide.  You need to be able to gain their trust and let that trust remain in the long-term.  You need to be able to advertise in a way that your audience feel compelled to choose you above your competitors.  Take a close look at the way your competitors approach their audience and if you believe it is an effective method, then adopt similar ways to your business.
2. Content creation
You should be able to produce content that is appealing to your potential customers.  Content creation is one of the major ways of marketing in business.  The smallest of things matter when it comes to creating content and this includes type of content, whether it's a video, a blog post or an email, the layout of the blog and even the readability.  You can get great ideas regarding these from your competitors.  You need to be able to incorporate their strong strategies to your business, to make your business just as good as theirs and even better.
3. Website creation
Your website needs to be to the point and precise when it comes to giving out the information.  It also needs to be easy to navigate around so that the user can tell exactly where to go to look for something.  Your website should also rightfully portray your business in terms of little things like color, texture and the feel of it.  Look at the websites of your competitors and learn about how they place things in their websites.  Websites may be the first thing a potential client may see so make sure it is the best.
4. Building trust
Trust is very important in a business.  Be it between you and your clients or you and your customers.  It takes a lot to build your trust with your clients and customers, but your little mistakes can tarnish it all.  Building trust with your customers may be tricky.  You need to know tactics to build trust and where can you learn these tactics from?  Well, your competitors.
5. Customer interaction
You may have social media links that are not active because you are just not well-versed on how to use them effectively.  Social media is one of the greatest platforms in our times to interact and build trust with potential customers.  If used rightly, your interaction on social media can be the key to getting your more clients and customers in the future.
6. Bring e-mails back to life
Many businesses have stopped sending out e-mails because they believe it is not effective enough.  Well, they need to think again.  E-mails are one of the strongest ways of communicating with potential clients and customers one-to-one.  Be responsive, however.  It is important to look at the feedback that you are receiving or queries and actually help them out.  In this way, you don't just interact with them one-to-one but are also willing to help them.  Your e-mails need to be interactive but not too over the top.  Look at how your competitors design their e-mails. Watch and learn.
7. What to put and what not to put
If your business is on social media, which is great, you need to be able to correctly determine what needs to go there and what doesn't.  This is crucial because you need to take into consideration the ones who are going to read your posts/tweets/blogs.  For instance, you can be humorous, there is nothing wrong with that and, in fact, it is encouraged.  However, the problem lies in the kind of humor and whom you are targeting it to.  Make sure your jokes aren't the kind to make a specific group or people from a specific country feel odd or left out.  This can be demeaning and hurtful.
8. Make yourself visible
You might be wondering why and how your competitors are getting more clients and customers than you.  The answer may lie in search.  You are most probably not showing up when a potential client or customer is searching for the product or service that you provide.  This is crucial, because if you are not visible then there is no way people will approach you.  You need to be shown in big search engines like Yahoo!, Bing and especially Google.
9. No shame in taking help
If you feel like you are not good enough at representing your business in the right way, then seek help.  There are plenty of SEO service providers providing enlightening content for various websites and instantly making them visible to a large number of people.  There are even contractors who are willing to provide social media services.  They will help to run your social media accounts in a much more efficient manner and this can greatly bring more customers to your end.  There are PR Experts, branding specialists and, of course, don't forget business coaches.   (Yep, I know, that's a bit of a plug for yours truly).
10. Know the mistakes
One of the single most important things that you should learn from your competitors is their mistakes.  Learning about their mistakes can greatly help you by avoiding them.  This is what is "learning from others' mistakes" is and applying it to your own life.  So, in any case, if you are faced with a situation similar to them, you need to make sure not to repeat the same mistakes.  Mistakes often cost money, directly or indirectly, so be sure to learn from others.
If you need any help with your business, either in coaching or even connecting you to specialists, I know many who are great at websites, print, SEO, branding etc – feel free to ask me.