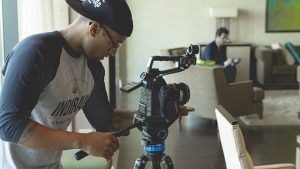 Recording a video or vlog at home or in your business can be easy.   I should preamble this and say, you must ask the purpose of the video.
Learn how to write great blogs too.
If it's to go on the home page of your website, I would seriously consider using a professional videographer.   It also depends on your industry.   If you are say a website designer, lawyer, or specialist there is an expectation of improved professionalism.   A small tradie can get away with something a little 'rougher' and in fact, a little rough won't make people worry you're too expensive.   It also depends on your target market and the perception you want to leave.   If you want to come across as professional, upmarket, elite or exclusive, then the 'selfie' and home video option really isn't an option for you!   In this case the lighting, sound, editing and finish should be reasonably polished and professionally done.
So, let's look at the other side of things – you want to shoot some videos to pop on social media, or be seen, then it really is easy these days.   In fact you can do it from most smart phones.
Here are my top tips on how to record a great video or vlog at home:
Be prepared for your shoot.

Before recording your video, make sure all your props, scripts, actors (if there's any), and location are ready to go.  Don't forget to charge your device.
Get to know your device.

Familiarise yourself with the controls before you begin recording.
When using smartphones, always use the back camera.

Front cameras have been quite reliable for video calls, but the back camera is still more decent and takes more consistent shots or videos.
Hold your device with both hands to ensure stability and focus.

Try not to look at the scene too much and try to not look at the main phone, but at where the camera is.   Look at your phone to see if the recording is smooth and not blurry.  Most camera apps let you tap the screen to set focus.   Alternatively, use a tripod to ensure complete stability.
Even though most cameras are now larger in screen size and portrait mode seems like the comfortable way to record videos, remember that videos are best viewed in landscape mode.

Make it a habit to use landscape mode when recording your videos.
Enable grid.

Grids help you ensure that your video is straight, and prevents videos from being taken at a wrong angle.
Lighting is a bigger deal in videography than in photography.

Editing, brightening, and applying filters to a video may destroy its quality.  Make sure that the scene is illuminated by a bright light source and not with the light behind you (so your face is in the dark effectively).
Wide angle is the best way to record videos.

This means you should be a few feet away from the scene to capture everything without having to move your camera around too much.
Try to avoid movement. Smartphones can't instantly focus on things – less movement equals better overall video quality.

Move slowly, if you need to, so that your camera has enough time to focus on each scene.  Smartphone cameras are not very good at zooming, too.  The closer your move in, the lesser quality your video will be.  If you need to take a closer shot, move closer to the subject instead of using the zoom function.   I recommend you just stay in one spot!
In respect of script, outline what you are wanting to say, but don't learn it word for word.

Certainly never read it.   And please, don't forget to smile, be personable and engage your audience.   Have a bit of fun, enjoy the process and ensure that shows in your video.
Audio is an important part of videography, especially when you're recording how-to videos.

Always record in a quiet environment without background noises.  If you need to shoot outdoors, try using a portable audio recorder with a good microphone.  You may then edit the audio into the video clip later on.
Look at the details.

Scanning the video screen before recording will help you see the surrounding elements of the scene.  Begin by looking at the centre of the screen, then work outwards.  Look closely at each part of the screen to make sure you don't miss anything.  One great strategy is to have your sign or banner behind you (if appropriate).
Edits and filters make every scene look better, if used correctly.

By editing your video, you can remove unwanted and irrelevant parts.  Editing tools will allow you to do this, as well as add multiple video clips, still photos, text, and sounds.  You can create a mini-movie if you wish to.
In editing mode, you can add an introduction slide (PowerPoint) or mini professionally created intro video (which usually is your logo with some animation and suitable sound), slides at the end with your contact numbers, website and call to action.
In marketing and on social media, video is so incredibly popular.   You can easily setup a YouTube channel of your own (I have one) to keep all your videos.   Whether you do it alone and at home, or seek a professional, seriously consider getting some videos done soon to improve your marketing success.
For more business coaching tips, one on one sessions, call me on 0411 622 666 or email donna@donna-stone.com.au.