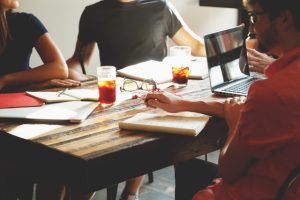 How much, and what you tell your team is important.   I see this often done badly; either too much information shared, or not enough.   How much do you involve your staff in the day to day decision making process?   Let me outline a few aspects for you.
Always do your due diligence.
What to not share to staff
You are struggling badly.

Yes, you do tell them debtors is getting out of control and we need to be more diligent with collections, but you don't tell them things are really tough and there is no money in the bank and the business is 'skating on very thin ice'.   Why, because some (not all) of your staff may 'jump ship'.   If they perceive they won't get paid, or may likely not have a job in a few weeks or months, they start looking around elsewhere now.   Next thing you know you've lost critical team and before you know it, you are in even deeper trouble.  If you absolutely know the doors will close in three weeks, then sure, give them three weeks to get organised and look for a job, give them a great (if deserved) reference.  However, if you are really trying and hoping to trade out of the situation, then keep quiet! 
You are selling.

For exactly the same reason, if people know you are selling, there comes that feeling of possible instability.  They will worry whether the new boss will be an ogre, or will the new boss sack everyone and they will be without a job?   Staff generally seek stability and security (why Government jobs used to be popular) so you telling them you plan to sell may just mean you have a mass exodus and the value of your business (and saleability) is diminished.   Instead try to find a buyer who will keep your team, encourage a buyer to keep your team and then when the sale is unconditional, advise your team, but with that positive reinforcement that their jobs are safe.  Help them feel secure and safe.
You have no money in the bank.

Again, staff will panic that they won't get paid.   Instead, make collections a priority WELL before you get to that point.   Have savings accounts, have a buffer and do everything you can to pay your staff.   Sometimes you think you're only making it by the skin of your teeth but pre-planning and sensible cash flow management will alleviate this.   Make staff wages the top priority and be reliable with payment.   Don't drag it out a few days.   Maybe you are just slack, or your staff may perceive there is a possible cash flow crisis.  If staff generally have access to the business bank account and its balance, make it a practice (also for a security reason) to never leave more than a little in this account.   Always move money to another account they don't know, can't access and which is earning interest.
What you should share to your staff
The importance of collections.

Instead, explain that if clients don't pay us, then that makes it harder to pay wages … do this well in advance with a great process and keep on it.   It's not about making them do their job from fear, but about them realising that there is not a money tree at the back of the building.  Collections (and invoicing) is even more important than doing the job.
Why budgets are in place.

You mention budget and some (not all) staff just think you're being greedy or tight.  Reality is that every solid, strong and successful business has a budget.   If the relevant team are involved in the process, and in the loop, they are more likely to take ownership of a budget.   Explaining that if you are diligent in managing the business, keeping on top of things and ensuring the business' success, then that benefits them long term as a healthy business is going to be a long-term employer and provides excellent job security for quality employees.
Why things change.  

People generally very much dislike change.  If a system or process is changing then they need to know the why.   Some staff will follow blindly, but staff who think, show initiative and are more engaged need to know the 'why' in order to be fully engaged.   When they understand why something is occurring, they are more likely to adapt well, embrace the change and even help others in the organisations to 'get on board' with that change.
What are the goals & objectives?  

When doing planning, development and strategy days it's great to get staff input.   This has 2 purposes.  The first is to get their ideas and feedback, after all they are the ones at ground zero who really know what is happening first hand.   They bring a unique and different perspective.   I'm not saying your business is a democracy, but having a consultative process will be priceless.  Secondly, if they are involved, they are engaged and they are more likely to take ownership of a goal or change because it was (to some extent) their idea.   They feel valued, listened to and appreciated.
Staff Selection.

Imagine you are recruiting for a position where the new person is going to work very closely with an existing person.   Why would you not come to the existing person once you have shortlisted to then ask their opinion?  Or better, have them sit in on final interviews.   Not only will they feel valued, they could have a good perspective to share AND often they will be more likely to ensure the person does well, especially if that person was their choice.   I say final interviews, because you want the right person in the position, but once all that is sorted (skills, experience, test results, reference checking) then it's often a matter of personality.   Far less headaches if those two people will get on!
So, as you can see there are times where staff are better to be blissfully unaware.   Why share the burden of cash flow challenges with them?   Just ensure you are on top of it, and get things back on track.   Likewise, why keep them in the dark when it comes to goal setting, planning, change implementation?   Two heads are better than one, fifty heads are hugely better than one or two.  I know one or two of you may disagree with me on some of the above concepts, however I am sharing my opinion from experience borne of 30 years working with Australian businesses.