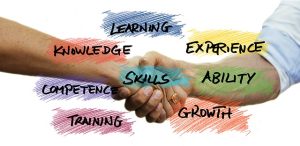 Different business coaches offer different services.  You may focus on ideas or be particularly hands-on, or perhaps accountability and stretching your clients to achieve their optimum.   Whatever your focus and direction is, you want to be a business coach who always adds value to your service.   There is no better time than now.
The real question is, however, what can these extras be for you, as a coach, to add value to your coaching service?  Let's take a look:
1. Take notes in a notebook.
When you are in conversation with your clients, the best thing to do is make notes in your notebook with a pen instead of typing it in your computer, although this may be more efficient for you.  This is mainly because if you write in a notebook it is usually a scratched word or two, whereas when you type, you are focussed on the keyboard, usually write more and it can be very disturbing for your client.  If you absolutely must use a computer/laptop, ensure the keyboard is set to silent.   However, having said that, my keyboard is on silent as I write this, and I can assure you there is clanking happening!
2. Listen more.
One of the most important things, for anyone as a coach, is to listen. Listening can help you grasp details that you really need to know about your clients.  Don't cut them off too much.  Even when you have a point to make, let them complete their sentence before you jump in to add some suggestions or missing details.
3. Ask them what they want.
Asking how you can help them in any extra way is useful too.   The downside of this is that they may not know, may not have ideas or just say "all good" to be polite.   However, it cannot hurt to occasionally ask.
4. Show them that you care.
You need to constantly reassure your clients that you are always there for them and are willingly trying to help them out.  In case you are having a video chat with your client, show them that you are making notes so that they are aware that you are paying attention and making notes.  It is very important to make sure that you always make your clients feel like they are being heard.  Tell them that you care; this can even be emails at random times (like the weekend) where you say "I was thinking about your situation, and …. "    Remember to regularly thank them for their business and show your appreciation.   It doesn't have to be gifts, but rather, showing appreciation.   A good old-fashioned 'thank you' card in the mail, handwritten is very effective too.
5. Follow up.
Your client might mention something important that is happening on a certain day.   Make note of that and give them a quick call to see how it went.   If it's a special occasion, or event (even personal) drop them a quick email or text to wish them well or say you hope it went well.
6. Plan an extra time.
After you are done coaching, allow time for follow through.   Whether that is sending them a reminder of things to action or some notes on the meeting, perhaps sending through resources or information you promised.   Schedule in your day to allow for this follow up service.   It should ideally happen within 24 hours of your appointment.   Remember, if you promise to do something or send something, write it down so you don't forget.
7. Give meaningful tasks.
Make sure that your client is completing all the work that you are assigning them within the set time frame.  However, ensure these tasks are meaningful and relevant – not just 'time fillers'.    Some coaches work to a set plan, others are more flexible and action client work based on client needs.   Whatever your approach, be sure your client is moving forward and even if the steps are baby ones, they are propelling forward in a positive way.
8. Give 100%.
There will be times when you don't feel great, or you are tired or perhaps distracted by the prior client's needs.   You might be tired or need to eat something or simply, you are busy and rushed.   Whatever your situation, do not bring that to the coaching room.  Take 5 minutes to clear and focus on THIS client.   Have everything you need in front of you.   Ensure you have scanned last week's notes and put on your coaching face.   Your client is paying good money to spend time with you – give them value, be present, be organised and be positive.
9. Give Extra.
At times you will give extra – it might be extra time or an extra service or a particular resource that has a high value.   Be sure they are aware of that.   Sometimes it's even worth showing extras on your invoice with the value, and then showing that price being taken off.   If people don't know what extra you have done, or the value of that extra (especially if it's high value) then how can they appreciate fully what you have done for them?
10. Learn, learn and learn.
Be constantly improving yourself.   If you are like me with 30 years' experience with helping Australian businesses, this doesn't mean you know everything.   There is always more to learn (you're never too old to learn).   Make improving yourself, your knowledge and your expertise something that occurs each and every day – without fail.
Always work on providing the best for your clients.  This will uplift them and looking at your efforts they will always appreciate you and might even refer you to other potential clients.  This can bring you great benefit in the long term.  Providing extras such as the ones explained above can really help you as a coach to boost your coaching service and at the same time gain more clients, which also means more profit!