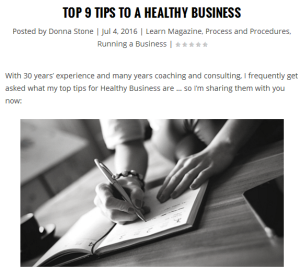 I've got 30 years' experience in the industry as well as coaching and consulting that I've come up with some tips to a healthy business.   As I write for other great business websites, I'd like to share this one I originally wrote for BusinessBusinessBusiness.
Top 9 Tips to a Healthy Business:
Debt collection
Cash is not just "King". I believe it's the whole royal family.
Review your figures   
You should review your main reports such as Profit & Loss, Balance Sheet, Debtors, Creditors as well as Payroll.
Market when you are busy 
Even when you are busy you should make sure to be doing your marketing as it takes time to be effective.
Vary your marketing   
Who has not heard the expression "don't put all your eggs in one basket"? I strongly believe in this especially for marketing.
Learn every day!   
I greatly believe in education.   I subscribe to different ways to gain knowledge whether it's from a magazine, article, blog, Youtube clips or LinkedIn posts.
Be a leader  
You are a boss and a leader if you have staff (or contractors) therefore you must lead by example.
Say thanks!   
Say thank you not just to staff but also to suppliers and customers. It costs nothing but it is invaluable.
Seek help  
Business owners especially those in small business want to save a dollar by doing their own employment agreements or working on their bookkeeping. They will not call their business advisor or accountant for help because they do not want to be charged. Most of the time this results to disasters, mistakes, law suits or time correcting errors which eventually will cost you more.
Be a healthier person
The health of a business owner comes closely with the health of a business.
I ghost write for others – whether that be a book, e-book, blog, newsletter or website content. Email me at donna@donna-stone.com.au or call 1800 77 65 61 for more information.