***Guest blog post by author Reba Webb on choosing the right office furniture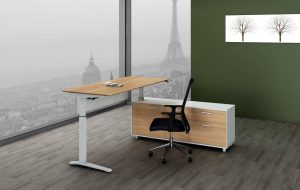 The overall features of your workplace, such as structure, layout, and aesthetics, are critical, not only to impress your clients but to ensure employee productivity and engagement as well. Multiple studies reveal the importance of office environment in the well-being, performance, and efficiency of workers, which is why you should be thoughtful of every little detail in your workspace like furniture choice.
Searching for the right chairs, tables, and other pieces of furniture requires careful planning, given its impact on your business and workforce. Before you visit a reputable supplier like Pimp My Office and buy office furnishings, it is best to do some planning.
Try to consider the following factors so that you can find the most suitable office furniture for your company
Comfort
Your employees spend most of their waking hours sitting and working on their desks, which is why you should always keep their comfort in mind when looking for office furnishings. Imagine how distracted they would be if they have to sit on uncomfortable chairs all day. Instead of having enough energy and motivation to do their jobs, they would just try to get by so that they can go home and rest as soon as possible.
To ensure maximum comfort and productivity, you should consider investing in ergonomic office furniture. Unlike conventional furnishings, ergonomic chairs are designed in a way that relieves pressure on the back, shoulders, and neck. Ergonomic desks are also created to ensure comfort and work efficiency.
Culture
Another essential element to consider when buying furniture is your company culture. Keep in mind that how your office looks is a reflection of what your company stands for, so make sure that you have clearly defined your brand before shopping for furnishings.
For instance, if you value formality and hierarchy, then your chairs, desks, tables, and other office items should be elegant and classy. If you want a more creative and cooperative vibe, you may consider buying long tables instead of individual desks so that people will have more chances to collaborate.
Aesthetic Appeal
Choose office furnishings from a well-known supplier like Pimp My Office who provide furniture that is pleasing to the eyes. If you intend to purchase coloured desks, chairs, cabinets, and other fixtures, make sure to choose hues that will create a positive impact on your employees.
Try to do a little research on the psychology of colours to determine the right shade for your furnishings. For instance, if you are after a relaxed and peaceful vibe, you should consider green. If you want to foster teamwork and interaction, on the other hand, you should try orange and similar vibrant hues.
Office Space
While it makes good sense to buy furniture that fits the size of the office, it is unfortunate that there are still those who purchase bulky items that take a lot of space. Make sure to avoid this mistake by taking the exact dimensions of your office and planning the sizes of the furniture you will buy.
Opt for space-saving furniture as much as possible so that you can retain significant floor space to ensure employee comfort and better mobility. Large pieces of furniture can make your workspace look cramped and suffocating.
Whether you realise it or not, the process of buying office furniture is serious business, given how it affects your organisation. Make sure to consider the factors mentioned above and purchase only from an established supplier like Pimp My Office to ensure the quality and durability of products.
_ _ _
New business and need help? Check out my Start-up Coaching Services.