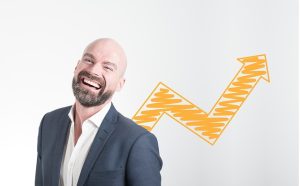 I know that the world is made up of many people.  These many people have different attitudes around money and beliefs around money.  Some of these beliefs are 'wired' into us from an early age; from upbringing and even religion.  We've heard the expression "money is the root of all evil".  Self-belief often means business owners are not confident to ask for rate increases or even ask to be paid when it comes time to do debt collecting.
However, today I'm going to be talking about the spending side of things.  As an experienced business coach, I've come across many people who, for a multitude of reasons (or dare, I say 'excuses'), just struggle to part with their cash.  I should clearly clarify; I am not talking about wasting money or spending huge dollars … but rather smart and well-planned spending.
Let's look at some examples on how to develop a good mindset:
Book Royalties
Thought I'd start with myself.  I've had 6 books published and when I sell through Amazon or Fishpond, they get a cut.  Now a royalty which is 5% is too low to make it worth my while; however, if the royalty is say 50% (after cost of product) then I figure that's 50% I might not have gotten otherwise.  Imagine Amazon sells 1,000 books and I get $10 per sale.  Well, there is $10,000 I would not have got otherwise.  Sell 10,000 and well … you do the maths.  Getting a little of a lot is far better than getting 100% of very little.  As always, do your due diligence and ensure the deal is good for you, but rather than focussing on what you're losing, focus on what you will be gaining.
Commissions
Unless someone is your best mate, they are not going to promote your business without there being something in it for them.  Unless you work for a charity as a volunteer, then everything we do, we are looking to get paid.  So, if you are expecting to drop in some flyers and another business will promote you, just because you ask, then you may be very disappointed.  Other businesses need incentives to help you grow your business.  You might be a local restaurant that is hoping the local hotels will pass on your details to their guests to eat.  If there is an incentive for them, then they are more likely to do that.  Goodness, even getting FB likes and reviews sometimes requires making an offer (free coffee, next visit discount etc) so be prepared to pay a commission.
Appreciating the Intangible
Ask a tradie if his drop saw is worth it – he will say yes.  He can touch it, it's tangible and it's got a clear purpose and value.  When something is less tangible, we struggle to sometimes appreciate its value.  I find website SEO (search engine optimisation) one such intangible that some newer business owners struggle to value.  They can see their website – it's there – so why the need to spend money on SEO.  Yes if you Google yourself and you can find yourself, great.  But let's imagine you're a plumber – perhaps called 'Jim Smith's Plumbing'.  Few people are going to be searching that specific name.  Rather they will be searching plumbing and most likely their area, region or suburb.  If you can't be found on page 1 (maybe even page 2) of the Google listing, you're lost.  I understand when a business is new and starting out, it's on a tight budget, but not all SEO is expensive but it is critical.
"I'll spend it later when I've got some money"
This is the age-old dilemma of what comes first, the chicken or the egg?  Spend it to make it, or make it and then spend it.  The thing is that in order to make it, you do sometimes have to spend it first.  A classic example is business coaching.  People starting out think they can't afford (even a small package) so instead fumble on.  They make mistakes which either lose them time or money and don't get ahead as quickly as they might have.   Marketing is another area.  If you just spend some (not a fortune) on smart marketing then your business would be well on its way, growing, expanding and making you good money.
Invest in your future and your skills
When times are tough, one of the first things to get dropped is staff training.  It's perceived that this isn't something which generates income or is overly important.  There is also sometimes the mindset that you might spend money training your staff and then they will leave you.   Thing is that if you don't value, upskill and look after your staff, yes, they WILL leave you.  I know that staff stays for many reasons, it's not just about a paycheque – other factors, such as opportunities and appreciation and feeling valued are also important.  Think about this too.  Imagine you spend some money upskilling a team member; perhaps it's using software a little better or possibly some sales training.  Imagine with improved efficiency, or an increased sales conversion rate – they will be more productive and in turn, increase your profits.  That's a smart investment.
Understand the importance of perception
Imagine you're a real estate agent.  A sale can be worth $15,000+.   Why would you not get a professional photograph taken for your marketing material, rather than relying on a phone selfie?  Why would you print your business cards on the home printer, or with a cheap print company so that they look cheap and nasty?  I've said real estate here, but it could be any business owner – tradie, professional, training, psychologist.   I was chatting at a networking event recently with a new business owner, and he sounded quite experienced, then I got his business card and just cringed.  I've come across great website designers, who don't have their own website!  One branding lady I met didn't have her own brand sorted out yet.   People do judge you by perception and how they see you do that aspect of your business yourself.   A client of mine tidied up their quoting presentation folder (looks awesome now) and their conversion rate improved overnight.  They still provide the same great service they did before the folder, but it's often about perception.
When it comes to business, there is an expression "You have to spend money to make money".  I believe well-spent money, which strategy, plan and due diligence having occurred, will mean it's a wise investment in your business and an expense which will ultimately generate business.  Rather than maintaining that "I can't afford it now" mantra, instead "how can I not afford it?"  As always work within a budget, ensure the expense is the best option and shop around if it's a larger expense.  It must always be value for money.
Check out my Business Coaching services and find out what's best for you.  Here's to a great business in 2019!
Read How to Work Collaboratively and Effectively With Others to Achieve Maximum Results.