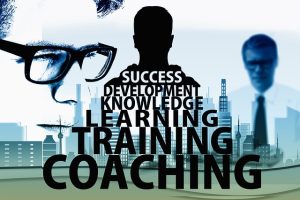 All coaches and leaders need to nurture their people, whether you are a corporate leader, run a Mastermind group, run a B2B Networking Group or are a business coach, mentor or trainer.   Leadership, training, and coaching should be actioned where you lead by example and help others grow.
Read Goal Setting Planning for Business Owners.
Provide a Safe Environment
In coaching, Masterminds and even networking, those attending need to feel safe.   They need to feel that they can be open and honest and share their ideas without fear of being sledged, or being told their idea is stupid, or has no merit.   A good coach or trainer will encourage questions with the philosophy that there is no such thing as a "dumb question".   If you need to ask it, then you should.   Positive reinforcement like "that's a great question" or "I get asked that one so much" or "people rarely ask that question, but they should" delivered in a genuine manner helps those you are leading or coaching to feel they can be honest, open and engage in your coaching or training in a greater way.
Leave Your Ego at the Door
There is a fine line between promoting your service and overselling yourself.   Let me use this example.   If you are a personal trainer (fitness coach) and you can, literally, run circles around your students please don't.   Bragging about how great you are will not inspire the majority of your class to greatness.   In fact, quite often the opposite will occur.   You definitely need to demonstrate what to do, but being conceited and a show-off will not make your students feel good about themselves.
Listen & Ask Questions
A good coach or leader invites questions and listens to people's ideas.   Participation gets the most engagement from a person, so by having them participate (in the PT scenario somewhat critical), and be involved and do things and share their ideas, then they and others in the room will get the most from the session.   This is particularly important in Mastermind groups.  Whilst you who are leading the group may have a mammoth amount of experience, recognise (and appreciate) that others in the room offer their own (often extensive) experience as well and also may offer alternative options and perceptions and ideas.   Listen to and value others input into the group and make them feel appreciated for their input; others will follow their (and your) example and become more involved too.
Recognise a 'bad idea' might be the beginning of a brilliant concept
As a coach we often have extensive experience and of course our beliefs can often be tainted by our experiences (particularly if negative) and so there is often the temptation to say "that won't work".   For a start, as a coach, it is not our place to declare that someone else's idea is doomed to fail.   If you have your concerns then ask relevant questions such as whether the person has done their research and due diligence.   If by researching the idea fully, they come to the conclusion that it's not the right choice, then you've done your job.   We need to show our clients how to research, think through and process their ideas so that they learn these skills for future ideas to come.   You absolutely have a responsibility to guide and support, but not to just take someone's dream and stick a knife through it.  Possibly by working with them on an idea which has some merits, but needs work, you can guide them to adjusting their approach, concept and strategy to create something which has the potential for absolute brilliance.
Celebrate the Wins
I know myself, I am a driven person.   Hey to be finalising my sixth book speaks to that.   However, with your participants or mentees, recognise their wins.   You may not perceive what they have just achieved as being wonderful, but look at it from their perspective and maybe what they have done is pretty great.   I recently got a client to do his first newsletter.   Now you might think "so what?" as perhaps you knock one out every week.   However, for this person, he had been trying to get his first newsletter out for two years!   When it landed in my inbox, I sent him a lovely little email saying how great it was and congratulating him on that achievement.   It might be a little achievement, but all those little things add up, and if we keep the enthusiasm, motivation and positive attitude, then before we know it, they are achieving numerous big things.
Being a coach, mentor, trainer or leader is a huge responsibility.   Often those we are working with look up to us.   We need to lead by example, give them our best and be sure to nurture and support them to achieve their own successes.  In my 'Coach the Coach' program I cover off on this and so much more.   If you'd like to know more, please contact me via phone or email donna@donna-stone.com.au.