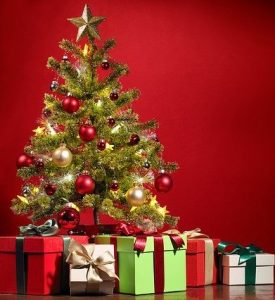 I don't know which is harder; thinking of Christmas gift ideas for my coaching clients or finding great ideas for friends and family?  What I do know is that it certainly helps to have some ideas, so as I did my own research I thought I'd share some tips and pointers with you and hopefully some great ideas.
As the year comes to an end, there are always a string of people we should be showing appreciation for, including:
Clients – as obviously without them, we would not have a business
Staff – those magnificent people who help us look after our clients, who in turn look after our income
Referral partners – often the people who give us lots of great leads and opportunities and have helped us have such a successful year
Suppliers – let's not forget those who make our life easier in providing our product or service – many suppliers go out of their way to provide above and beyond what is industry standard, so be sure to not forget them
Supporters – these might be the people who have been there in our corner, supporting and encouraging us … they might also have the name 'friend'.
Prospective new clients – show them they are not forgotten too and retain top of their mind over the next few weeks.
Tokens of appreciation do not have to be expensive.  Nor does the same item need to be sent to everyone.  You may well have some clients who are your VIP clients and you want to give them more thought than the traditional bottle of wine.  I suggest you do a list of people you want to acknowledge and take the time to allocate a gift idea for each person.  The top tier clients might be one gift, then another type of gift for the others … work your way down to those people who you don't want to forget and will send them a Christmas card.
So, here are some Christmas gift ideas of the things you can get for those special people in your business:
Technology
If the person favours technology, then the options are boundless.  Look at what that person is into; if overseas travel and business then a Muama Enence device will allow you to speak 43 languages.  If they are an Apple fan, then there are quite a few accessories on the Apple page from new covers to chargers to headphones.  Find out the person's interest and then explore from there.
Branded items
When it comes to branded materials, the options are boundless.  I have a number of business coaching clients who have attained everything from branded puzzles to eskies, umbrellas, branded golf balls, addendums and diaries.  Just remember that paper diaries (like calendars) are being used less and less, so may not be appreciated by many.  In my coaching business, I've done branded USB's as well as branded mugs.  In fact, my mug included a list of daily business tips on one side.
Quality over brand
Want to take it a step higher, you might consider a good quality pen which has the person's name engraved on it but which is not formally branded.  This makes it more personal and less like a 'corporate gift'.  However, despite that, there are some very nice (and upmarket) pen options available which do also include branding.
The usual
You can opt for the usual – gift cards, vouchers, bottle of scotch or wine – these have been done for decades and usually are well received.  If the person is not a drinker, then they can re-gift the item to another person, but won't terribly appreciate the gift.  If you want to be just a little different, you can get clear bottles of wine, have your own labels produced and provide those bottles of wine to clients.
The personal
If you are a cook, or perhaps even have a flair for the arts, you may choose to do something very personal.  I recall one year a supplier gave me some home-made chocolate fudge.  This gift was particularly special because personal effort had occurred and I felt honoured they would make that effort for me.  I have a number of table coasters on my other website Artwork2Love which I am considering for a range of associates.  Each is a piece of original art – with the benefit of being very practical.
Pretty and useful
You can also customise a number of home products with branding but which is also attractive looking.  Items such as tea towels never go astray (even if you have a dishwasher).  Have a design which is attractive, perhaps with a business quote and then include your logo on the bottom.  The challenge with any branded item is that it's attractive or useful enough that the person will hang onto it for a good period of time and use it.  That way your logo or branding lives on for quite some time.
The gift of knowledge
How can any business owner, manager or entrepreneurial mind go past education?  Give the gift of knowledge via a book or audio CD.  In fact, I offer a great range of printed books which make great client gifts, particularly if your client is in business or in a management role.  Check out some of the titles available HERE.   If you are considering 10 or more copies (mixed titles is fine) then contact me directly for special bulk pricing.
A hamper you have created
There are many and varied corporate hampers available, but the best is the one which you have built yourself and includes items you know your special person will appreciate.  You may know they like certain things, or perhaps for staff (well enough in advance) providing a Christmas ham is a very appreciated item.  Again, know your audience; if the person is vegan or vegetarian, then that may not be the best choice.
Service gift vouchers
Helping another local business is always a win-win.  You can provide a gift voucher to a local restaurant, café, sporting club, beauty salon, massage therapist, hairdresser, jeweller or car detailer.  That local business will also benefit plus, of course, your gift to the recipient.  If you buy a few, you may even be able to negotiate a little something extra, or value-add, without paying more.
There are many options available.   The important thing is to get planning early and not leave it till the last minute.  Also, be sure to liaise with your accountant if you have doubts about the deductibility of your gift – the ATO do have limitations and restrictions around gifts, fringe benefits and 'entertainment'.  At times, simply by providing the gift in a certain way, or to a certain level, you are more able to make the item allowable (and the GST claimable).
Whilst this article has not been specifically about business coaching, I am always happy to speak to anyone who would like to know more about my business coaching services, which are Brisbane-based, but Australia wide.  Simply give me a call on 0411 622 666 or drop me an email.  I can also offer a gift voucher for a coaching session, should you have a very special person you wish to give a helping hand to.  Certainly not your usual gift, but definitely something worthwhile!