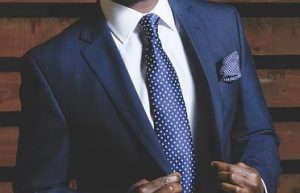 Remember that people do 'judge a book by its cover' and as an Executive you are 'on show' and representing your company.   You are expected to lead by example and demonstrate to your staff correct dress code.  If you are attending an interview for an executive position, dress even slightly above required level; at interview you are expected to be doing your best, so give 110%.  Perception is everything!
Read How to Appear Larger in Business Than You Are
Here are my top tips overall for Executives, for ladies and for men some specifics:
Generally
Wear clothes the right size.

If the clothes are too big, you would look sloppy.  Clothes that are too tight clearly show you have gained weight or for the ladies are inappropriate.   If you want to be taken seriously, dress the part.
Wear tailored jackets; they always look good on executives.

Dry clean regularly.  In warmer weather, when you get up to speak or present, be sure to put your jacket on and button it up.
Ensure your clothing is fresh; items which are faded, or look to have been well worn do not send the right message.

If a garment (even a favourite) is looking thin, worn or faded, cease using.
Shirts and blouses should be freshly pressed and ironed.

Alternatively avoid fabrics which require heavy ironing; a crush test is ideal when buying (crush with your hand and see if wrinkles).  Ensure all garments are lint or pet hair free.  Fix or remove loose threads.
Wear the right clothes for the right occasion.

You don't have to wear dress and heels, or coat and tie, during a company picnic.  Simply be appropriate to be seen as the company representative.   Remember, even at the company picnic, or year-end party, you are on show and representing your company; act and dress accordingly.
If you don't have one, invest in a full length mirror.

Inspect yourself (front and back) before you leave home.
Regularly clean and polish your shoes – ladies and gentlemen.
Remember to dress for the position you are aiming for.

If you are a State Manager now, but aspire to be the National Manager, then dress as if you are the National Manager now.
Wear perfume or aftershave sparingly.

A little is good, but not so much that those in the same room cannot breathe.  Don't marinate yourself in it.  People should not know you were in the building three hours ago.
Ensure you brush your teeth regularly.

And again, after a meal go to the restroom and ensure you don't have food imbedded in your teeth – especially at the front.   Keep breath mints in your bag, briefcase or desk drawer; always have one after a meal to keep fresh.

Additional Tips for the Ladies
Choose your colour.

A colour that may look great on you, may make me look sickly and washed out.   Not every colour is suitable for every person.   If you haven't had your colours done, let me know and I'll connect you to an Image Consultant.   
Stick to traditional accessories.

Have a little fun with accessories, but make sure that you don't overdo it.  Bright, jangly jewellery is just a distraction taking away from people to take you seriously.  
Consider silk scarves, particularly in cooler seasons to add panache to your outfit.   
Use bags that are fashionable, well-designed, but professional and functional.

Like your shoes (or clothes) they should not look worn and well loved.
Wear makeup that looks professional.

Avoid foundation that looks thick and cakey.  Choose one that matches your natural colour including the neck and chest area to avoid the 'tide' effect.
Eyebrow shape also adds to your look so make sure your eyebrows are shaped and tidy.

Additional Tips for the Gentlemen
One-button suits look better on men with a lighter build, while three-button suits look better on men of medium and tall build.

The first and middle (or only the middle) button should be fastened when standing.
For a classic look, stick with several white, and light blue shirts; however, it is best to have an array of colours to help lend a variety if you wear a same suit.

Remember colours send a message – blue is calming, white efficient, a pink or mauve will appeal to the ladies. Shirts should be always freshly ironed/pressed.
Diarise to have a haircut every 6 weeks, or if you are bald, shaving more often.
Keep your nails trimmed and clean (especially if you engage in other activities on weekends which involve a bit of grease, dirt or paint). Any facial hair should be kept short and neat.
Don't wear brown shoes and belts with black suits.   Socks should match the colour of your shoe, or should be slightly darker than your suit so that it is concealed when you cross your legs.
Choose a brown or black leather briefcase to match your shoes or belt.

Polish your briefcase like you would your shoes.  Ensure the belt buckle isn't too ostentatious.
If you are a leadership/mentoring client of mine, please ask me about the expanded version of this document – male or female specific.  This is available as a complimentary resource to all clients.  Email me at donna@donna-stone.com.au for more information.