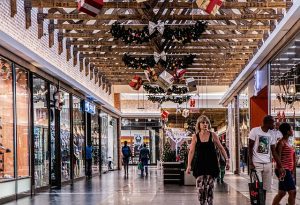 Great customer service is vital for a retail business.  Getting customers to your store through promotions, events, activities and a great website can be a head start to get visitors and a register which doesn't stop.  To turn these visitors into customers is the actual goal and more so, have these people coming back time and time again! There are plenty of ways this can be done, first and foremost, providing the best of service.  The salespeople of your store must be able to communicate in a friendly manner with the customers, making them feel comfortable and providing them all the help they need.  They are the key to make their shopping experience one of a kind.
Read How to Get More Reviews, Recommendations and Referrals.
A strong connection between the salesperson and shopper will cause the shoppers to visit the store more often.  It is extremely important to create a profitable customer experience in the store.  The fact that your customer might never come back to your store just because they haven't had a positive experience, is the last thing you would want! Worse, they tell all their friends how awful your store was!   With social media these days, that is increasingly easy to do.
Let's take a look at some of the ways your retail business can enhance customer service:
Welcome customers in.

This might seem obvious but when you have a closed door (ie you are air conditioned and want to save money by not letting the cold air out) this is a barrier.   Some people will not enter, as they feel they are intruding.   An open door is so much more welcoming and inviting.   For this same reason, those in hospitality should have the chairs partially open, rather than fully pushed in under the table; again the sense of welcoming someone to take a seat.
Make sure your store is parent and child-friendly.

One of the best ways to improve your customer's experience is by making it both adult and child-friendly.  You can do this by setting up a small space for kids so that the kids can be occupied while the parents peacefully shop. Often times, parents feel embarrassed as their children might run around, scream and disturb everyone around.   (Heck I avoided unnecessary shopping for many years; I had three active and vibrant boys – finding online shopping a peaceful bliss). To avoid this, they can send their children to these spots to keep them distracted, so that the parents can stay in the store longer and enjoy the experience.  This might make the parents return back to the store as they are aware of the fact that their kids can be occupied while they shop peacefully.
Train your salespeople to build a connection with your customers.

Training your salespeople can be the key to having customers that will visit again and again. Your salespeople represent your company, so make sure that you train them best.  Salespeople must build a healthy relationship with the customers.  Customers are more likely to revisit a store that they trust and like.  You need to train your salespeople to be active listeners. They also need to be honest in a tactful manner; saying "that looks great on you" when clearly it does not, is not in my opinion ideal.   Whilst you should encourage your salespeople to try and sell products to the customer which is in the best interest of the store (ie high margin items) ensure they are not too pushy.   Realistically your high margin items should also be of higher quality; some customers will value quality, others will value economical.  Training should include greeting customers, engaging with them, handling any difficulties, being helpful and assisting.   Never should a customer wait at a counter to be serviced whilst staff chat with each other, or on the phone to what is clearly a personal call.   Supervisors should also never interrupt a transaction to liaise with a team member, check the till, clear funds or other such functions and especially a supervisor should NEVER reprimand a staff member in front of customers!
Get rid of slow checkout lines.

Slow checkout lines can be a put off for the customers.  If the lines are too long and the customer bought only an item or two, they might reconsider their purchase.  How can you get rid of slow checkout lines then?  Well, it can be done by investing more money on mobile registers. These mobile registers are designed in a way that will allow your associates to call their customers to the floor, thus prevent a line from forming altogether. Another method would be by keeping the registers full on busy days.  Although this may be difficult this needs to be done to make sure the customers know that an effort is being made to eliminate slow checkouts.  Certainly have staff work efficiently, know how to use the system and acknowledge waiting for customers with a smile and nod.
Make your eCommerce sales look appealing.

If you run an eCommerce store, one way in which you can interact with your customers is through packaging.  Make the packaging as beautiful as possible and even customized if possible. Take every precaution when sending delicate materials, for instance, cover them with a bubble wrap. Include content on the packaging. This can include details about the product that the customer has purchased for instance.  Another way to make your customer happy would be by giving them certain sample pieces to try out.  These little things may make your customer a lot more satisfied with their purchase.
Present coupons or vouchers on purchase.

One of the best ways to impress your customers is by giving them vouchers or free coupons once they have purchased a product. These can be given to them after a certain amount of purchase has been completed. For instance, for every $100 they get to enter their name for a raffle draw! This way you can have more customers pouring in solely for the fact that they might enter themselves into the raffle draw and might win huge prizes.  Free restaurant or activity coupons can be given out to make their experience a better one.
Give redeemable points.

You can issue cards that regular customers can buy and use. After every purchase, a certain number of points can be credited to these cards.  These reward cards and points can later be redeemed for discounted prices on products or overall purchases. This is a great way to get your customers to revisit your store solely so that they collect enough points to redeem them later on. Thus, this can be a great tip if you implement on your stores to have returning customers.  I must say I enjoy getting $10 off my bill when I shop at my usual supermarket.   Coffee drinkers enjoy getting their 10th cup free.
To summarize, following the tips mentioned above can help any retail store to become the retail store that customers would love to visit over and over again. Providing quality customer service is one of the most important ways to keep your business growing in a profitable manner. Following these tips will not just get you visitors but transform these visitors into customers that can be extremely profitable for your business. It is crucial to show your customers that you care for them and what better way of doing this than the tips mentioned above.
As a business coach I can help you and your team provide great customer service. Call me on 0411 622 666.