THE RESILIENT BUSINESS CONFERENCE
Sunshine Coast, Queensland – May 2018
Being resilient in business has become a must.  A business must be strong, stable, resilient and flexible so that it can easily adapt to change, in whatever form that takes.  Gone is the day of 'lazy dazy' or just 'coasting along'.  To do well in business, succeed and especially excel, you need to have that edge that takes you above and beyond.  Many business owners these days are striving for more than simply surviving, they want to thrive and lead the way in their industry.

This Sunshine Coast Business Conference will put the best names in the business in front of you.  Experts in their fields will share their experience, knowledge and know-how with you.  Included in the line-up are:
Donna Stone – Experienced Business Coach, Published Author,  International Speaker & Co-Host.  Using her 30 years of experience, Donna will cover off on planning in business.  Her session will be practical as you will build a 90-day plan of your own.
Karen Vercoe – Human Resources expert with 30 years of experience,  Published Author & Co-Host.  Karen will be sharing her extensive expertise on legislation in business, particularly in the area of Human Resources.
Julie Mason – Social Media
Karen Howe – Payroll
Michelle O'Hara – Marketing
Melissa – Money & Finance
Justin Bayliss – Customer Service
Greg Aleckson – Industry Disruption … plus a few more.
Our keynote speaker is Lars Halverson.
Dates:                        Thursday 10th May (8:30am to 4:30pm)
                                   Friday 11th May (8:30am to 12:30pm)
Location:                  Alexandra Heads SLSC – at beautiful Alexandra Headland, Sunshine Coast, Queensland.
Inclusions:               Thursday lunch at the venue
                                  Thursday afternoon networking with canapés.  Cash bar available for drinks.
                                  Business dinner with our Keynote Speaker.
Accommodation:     An optional extra is accommodation at the lovely Grand Palais Beachside Resort for
                                  Thursday evening.
Who will this business conference suit?
Micro, small and medium-size business owners
Managers and senior management
New and emerging business owners
Anyone who is wanting to improve their knowledge around business.
To register your interest, enquire or book, please click HERE.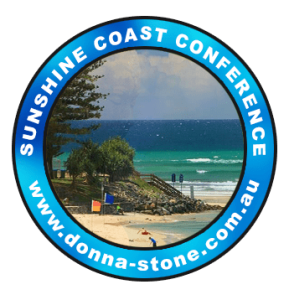 Testimonial for Donna Stone

I recently attended an event where Donna was giving a presentation of Public Speaking.  I found the tips and advice she gave on the art of Public Speaking very useful and informative.  The overall presentation was great and I think that anyone from school, student to adult, would benefit from hearing her talk.
–  Catherine Ellwood, General Insurance Broker