A good sales process has many steps, and often for a busy business or a business where quotes take a reasonably large period of time, you want to ensure you're quoting the right things.  In other words, you want to pre-qualify a customer before you actually quote for them.
Here are some things to do, action and ask yourself BEFORE you even action the quote as part of the sales process.
Find out who they are.
Are you intending to have a 2-hour sales meet, spend hours quoting and this is a customer who is not your ideal target client?  Often Googling them first and checking out their website is your first step if you're selling to another business.
Are you being asked to quote on a type of job, size or style which just isn't your ideal?
Either because you're not good at it, it doesn't make you money or it's often fraught with issues? Sure, small jobs can be great gap fillers, but you want to establish ratios for what that portion is.
Ascertain your clients' budget range.
If they want a $100K job done for $20K and you just know it's not do-able and they are not able to move up, then better to know upfront.  Some clients can be educated, but be realistic about the gap.
Why do they want a quote?
Is this for a tender a builder is doing and you're just helping to make their tender process easy, but they have a preferred supplier (not you) and you're just being used as a free quoting service?
How many other quotes have they got (or will get)?
If you're one of 10, why bother, as likely cheapest is the goal.  If you're always the cheapest, then go for it, but if your aim is providing quality and value, rather than cheap and budget, then potentially this 'tyre kicker' will just waste your time; and we all know that time is money.
Are you quoting for someone you've quoted for before, but never been successful?
Sometimes the same person will come back to you time and time again, but they never actually move forward with a job.
Can you actually solve their problem? Can you actually do what they need done?
There is no point quoting on a job you (or your team) really cannot do – unless you know you could do it in the near future.   It may be you don't have the right equipment now, but you've got a plan to get that equipment shortly and will be set up soon to help.   If by the time the quote converts you can be ready, then that is different.  Taking on a job you cannot do will likely cost you money, pain, grief and reputation.
If possible, ascertain potential 'objections' upfront.
Do they have any concerns with the project, or who they will get to get the job done?  If you can't manage those objections (or expectations), better to know now than after all that work of preparing a massive quote.
Consider also your special terms.
For example, many principal contractors pay 30 days from end of month, which equates to often 60 days plus.  If you now only accept work which is paid 14 days from invoice date, then ascertain that term upfront; if they won't budge, then why bother quoting now, only to reject the project later due to their long payment terms?
Identify the key decision-maker.
Does the person have approval to even get the quote, such as for a Body Corporate where an owner might reach out for a quote, but the committee (or management company) are not actually on board?
When will they be ready to proceed?
If it's a fair time off, then explain pricing can change and price is valid 30 days only; and so won't be valid in 3 months or 3 years.  Having said that, Tenders often are spaced out; so a percentage of these are sensible to keep things busy in the future.  Be aware, however, that if you are quoting now, what will be your cost in future?  With materials products, fuel, electricity and wages going up so much lately you need to be smart with pricing and have a very limited validity period.  Perhaps (unless a tender) they only reach out to you when they are actually ready to buy.
Take the extra time to ascertain the answers to the above.
Whilst it's a little extra time now, better to spend that time first, than spend hours quoting a job you really don't want, or won't likely get, or isn't ready to proceed in the reasonable near future. Grading clients occurs in a number of businesses, and some salespeople, especially when very busy or reaching delivery capacity, will do the same relating to prospects.  It's better to determine a client is a D grade one (versus an A or B) early and even not quote on that job in order to complete the quote for an A or B grade prospect.
Remember this, it's far better to quote less (which takes time) and improve your sales conversion rate.
Than to just quote a million jobs hoping to get something over the line.  On that note, if you are not going to follow up on a quote (in a reasonable period of time) then it's almost a question of 'why quote'?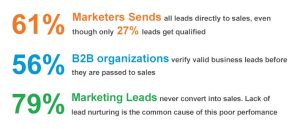 These interesting stats are from:  https://www.grazitti.com/
If you're overwhelmed with quotes or have tonnes of work, then make sure you research your prospect, pre-qualify them and then prioritise the lead or quote.
Pre-qualifying a lead is probably one of the most overlooked stages of a sales process even though it is very important. The salespeople who do not qualify their leads or prospects before taken through the sales process lose 67% of sales.  Further, you will have a hugely greater success rate if you contact the lead within 5 minutes … even if you can't get back to them in an hour or two or can't do the work now.  The difference in that immediate response time is huge, like 100 times more effective, to jump in initially really quickly, even if the quote or job can't happen immediately.
What you should never do is ignore a lead because you know you don't have the time today to quote, or are booked out for work for 8 weeks.  If you don't want to even quote, then politely alert them you're at capacity.  Ignoring a lead can earn you a bad reputation, or worse, a bad online review.
If you need any assistance with business coaching (I operate Australia-wide) or specifically help with improving your sales process, please reach out to me at my Contact page; I'd love to have a chat with you and see how I can assist you.