Stress comes in many different forms and can be caused by many different things.  We may feel pressured and stressed around money, a relationship, our business, the lack of time to get things done, or a myriad of other things.  Stress impacts each of us differently too; we might feel an overpowering sense of overwhelm, where everything is getting on top of us.  Alternatively, it may just be a little annoyance that we feel we manage quite well.
Stress can be long term and ongoing, or it can just occur during a specific situation.  Statistically, work and money are the two main stress creators in our lives, and often these two factors affect other aspects of our lives, such as relationships and general wellness.
The challenge is that left unchecked, stress can cause long-term health issues and definitely is not good for our general wellness and wellbeing.
Essentially I'm going to give you a number of strategies, but in simple terms, you want to do one of the following things around stress:
Avoid the stressor
Alter the stressor
Adapt to the stressor
Accept the stressor (and manage it).
Avoiding the issue sounds easy, but it's not always.  If you have a family member who creates stress for you, you will be able to avoid them somewhat (which isn't really fixing the problem, but it's giving you a bit of a break).  However, if money is your stressor and you are struggling to pay the bills, then this cannot be avoided, but rather, needs to be managed.
To alter the stressor, you may simply say no.  No is one of the hardest words we seem to struggle to say, but if something stresses you, then give it a miss.  This might be large social events, or perhaps doing something which is competitive.  If it causes you stress, then do something else instead.  Alternatively, if you own a business and bookkeeping causes you undue stress, then hire a bookkeeper and pass over that stress – your 'no' is actually delegating it to someone else.
Adapting the stressor may be another option.  If taking 6 kids to soccer practice is a major stressor, then perhaps only take 3, or perhaps take another parent.   If helping the team/club in another way, such as washing jerseys is far less stressful for you, then opt for that.
Finally, accepting the stressor.   There might not be anything you can do about the situation; it might be a huge deadline at work, or perhaps you've got a busy schedule for the upcoming Christmas season.  However, whilst you cannot adjust that situation, you can make it easier on yourself.  That might be not making elaborate dishes to take to the event, but rather something simpler.  It might be that you can call on other members of your team to help with the workload to get the project finished by the deadline.  Being organised and collaborative will help this happen.  It might be that time is a stress factor for you, so leaving 15 minutes early could mean you don't stress about being late.  Being organised might reduce your stress and then learning to manage it may then also help.
Following is a list of ways you can manage stress:
Say 'no' more often – if you don't want to do something and you've got a choice, then say 'no'. Go on, do it – you'd be amazed at how great it feels.  Now, remember it doesn't have to be a straight no.
Negotiate a compromise. Rather than saying a flat out 'no' give the person an alternative.  One great example is that I was asked by one of the philanthropic boards I sit on, to be the Secretary.  I am busy and knew this would cause stress.  So I suggested we share the task and we split the role into two, whereby I became the Minutes Secretary and the other person did the other tasks.  Although not a 'no' but an acceptable compromise.
It's a statistical fact that a workplace or home with an animal (dog, cat, bird or otherwise) is a happier place. Whether it's your urge to laugh because the dog is snoring, how can you possibly be stressed?  In fact, if you are feeling stressed (or upset), get up and give your four-legged friend a pat, cuddle or scratch behind the ear and take a moment for a little play.  I promise, you will feel absolutely better.  Check out Caesar below; he is my personal de-stressor!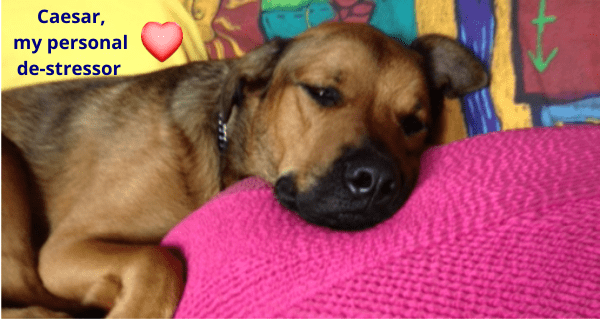 Take a walk. Sometimes it's just a case of getting up and going somewhere for a moment.  Even getting yourself a coffee or cup of tea, or even leaving the building altogether.  If you are really stressed, try this.  As you are leaving the building say to yourself "John is leaving the building" (like the expression 'Elvis is leaving the building' substitute your name).  Then, when you've left, say to yourself "John has left the building!".  Think of this little expression as something fun and positive.  Make it fun in your mind.
Eat and sleep well. Looking after your body is one way to reduce stress.  If you get lots of great sleep and eat well and get lots of clean water, then your body will feel better and so will you.  When we are recharged, we are able to then function better and handle any of life's challenges a little better, including stress.
Ditch the drugs, cigarettes, alcohol and toxins. These things are all crutches and whilst short term you may think you feel better, reality is that they are not good for you and will ultimately not relieve your stress.  Resorting to drinking copious amounts of alcohol is not the solution and neither is becoming a chain smoker.
Exercise, meditation and yoga work wonders. Whether it's walking, or something more strenuous, exercise is good for us; both physically and mentally.  It's all about those endorphins and getting the blood flowing.  When we take a break and exercise, we always feel better afterwards.  Your exercise might be mild and relaxing, such as meditation, stretch yoga, or something a little more active.  Choose something you enjoy doing and get started.  Yes, I know often there is a challenge getting started or going, but if you're disciplined and just do it – later you will be so glad that you did.
Don't worry about what you can't fix, or overthink things. We tend to have a tendency at times to worry about things we can't help.  And yes, us ladies worry about these sorts of things more than men.  We worry if someone will snatch our children on their way from school, or will our teenagers start using drugs?  The best thing with these things is to prepare our kids as best we can and then have a little faith.  Worrying won't fix anything and will just add to our stress levels and hinder our enjoyment of life.  If you can change or fix something, then let it go.  I do know that's easier said than done.
Get a massage. This is an amazing de-stress tool.  A simple massage for an hour, where you relax and someone kneads out that tension in your neck and shoulders … it's the best thing in the world.  Just be sure to leave your phone in the car and totally relax!
Breathe! A good physical de-stressor is to focus on something else … and your breathing is one great thing.  Take a full deep breath in and hold it for 6 seconds and then slowly release it over 6-8 seconds.  Repeat this 3 or 4 times and you instantly will feel better and certainly if it's anger, that moment will have passed.
Control your environment. If relaxing music, soft lights and scented candles help you to relax, then use these techniques.  When you get home from a busy day, start your routine; which might be to kick off your shoes, have a shower, put on some nice music and light the candles.  If the TV (and the news) add to your stress (and distress) then give it a miss.
Talking is a great way to work through things. We've all heard of the expression 'get it off your chest' and just the act of talking can reduce your stress.  Couple that with talking to someone who is experienced and understands what you are going through – this will improve the effectiveness of the discussion.  If your level of stress is quite strong, to the point of severe distress, then I recommend you speak to your GP and get a referral to a psychologist or counsellor.  If your level of stress is not severe, but something you want to improve, you can read articles like this on stress, practice some techniques and if you're stuck, reach out to a life coach, like myself who is experienced in helping clients manage their stress.
If you need any assistance to help with mild to medium levels of stress – just ask here.