Google My Business (affectionately known as GMB) is a powerful digital marketing tool.  Whilst it started in June 2014 it has really come into its own over the last couple of years.  Now it's a marketing tool that I recommend almost everyone that I do business coaching with.  As a bonus, it's free!
An interesting fact also is that you don't have to own or have a website to have GMB.  It can stand alone in its own right, although obviously having a website is frequently beneficial.  Having GMB fully set up and operational will add value to your marketing and help you get seen more by your prospective customers.  I should emphasise that GMB is not simply a set and forget marketing platform; you do need to continue working it.
How to maximise your GMB (Google My Business)
Set it up. Need to have it to benefit from it.  Make sure you 'verify' with Google.  If you have a local phone number, that is best for your primary number.  Google likes local.  Setup on Google Maps also.
After you've chosen your category, complete all the business information. I'll go into each section in more detail below.
Regularly upload more content – photos and posts.
Respond to all your reviews.
Be keyword conscious – all the time.
Avoid penalties. Google loves new content, it does not love something which is already on the internet and is clearly a copy.  In fact, one way to push down your ranking is to copy other's content.
Make GMB part of your documented marketing plan. In fact, I have four line items in my marketing plan around Google.  They are:
Giving and asking for reviews
Uploading photos
Adding posts
Reviewing my content at least quarterly.
Make sure always your content is current. Google will send you prompter emails at times like Christmas, Easter etc checking if you've updated your trading hours.  Be sure to do so; it's not just making it easier for your customers, Google sees you are active on the platform … and you know what that means … Google will show you more love.
So, onto each of the segments of your GMB account:
Info. This is all your specific 'about' details; ensure all items are filled in and current.  Google is always updating things and adding things, so even if you think you've done this before, continue to review.  They have added a Covid section, plus you can specify things like being a woman-led business.  An important thing to remember is that whilst you may be say based in Victoria Point, you may service Australia wide (like I do with my business coaching) so be sure to edit your location to reflect your true service area for your business.
Just as you post items on social media or your website, you can also add items to your GMB profile.  Now whilst Google does generously give you 1500 words, the rule here is 'less is more'.  I aim for 80-150 words here.  If it's a blog, then I intro the blog and highlight some of the pointers and then suggest they read on via click on the 'Learn More' button.  As in almost every aspect of your marketing, you should action CTAs (Call to Actions).  Google provides you with a button which you can customise; to take someone to a specific page on your business website, or to call you or a buy now button.  You have a few options and again, this is free.
Do check this out.  Looking at this, I know for my own business that the most searched term is Business Coach Brisbane, so it makes sense that I target that keyword phrase.  One thing I find really handy is that I can access my Google Analytics via an App on my phone; making it easy to review my figures whilst on the run, or whilst I'm sitting waiting for an appointment or in the queue at the shops.
Reviews. As a business coach with years and years of experience, I cannot count the times I've prompted clients to chase testimonials and especially reviews.  You have to ask, as otherwise, you'll mostly pick up the person who is cranky or who is so delighted (and Google savvy) that they take the time to do a review.  Check out my blog Everything You Need to Know About Google Reviews.  It's important to respond to both the good ones and any negative ones.  Also use Google to give reviews.  You do earn 'Brownie' points giving a review as well.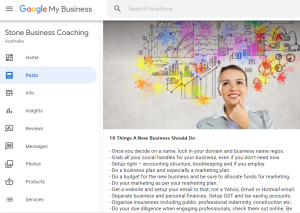 You can give your customers the option to send messages via GMB.  You do need to install an app from Google Play or the App store … but once that is done you can have an open line of communication with your customers and prospects.  Again, there is no charge for this extra.
Photos. You can upload both photos and videos.  For the photos ensure they are good quality and very suitable to be the 'face' of your GMB profile.  Google randomly (well to me it seems random) scroll through your photos to show as your main photo in search results.  Ensure these photos are suitable for that and don't contain a lot of text or are irrelevant.  Ideally they will be of you, your business front, services or working with clients.  Ensure the primary focus of the picture is in the centre and avoid images with a lot of text on them.  Again, ensure your photo file name is descriptive and keyword-rich.  Although Google suggests images at 720×720 pixels minimum, try to stay under 1000×1000 pixels so that the file isn't too large and takes too long to load.  Don't forget to select your photo category (team or work) by clicking on the 'i' button top right of the photo.
Think outside the box here, especially if you are a service-based business as we often don't have products.  However, I have written 6 books, so these are each listed in the products section.  If you have a workshop or training session, then you may choose to add these to the products section.
Use this and fill it out properly.  You won't earn brownie points for 5 brief dots points and that's it.  Really expand and tell people what you do, how you do it and how your services might benefit them.  Share what is unique about you and your care factor or passion around your business and your clients.
Finally, add your website URL to this section.
As you can see there is a bit of work in performing these marketing tasks, however it is well worth it.  I've been tracking my lead sources for a couple of decades and whilst a decade ago word of mouth was my primary lead source, that has absolutely changed and Google and my website are far larger lead source now.  You cannot ignore that and you really can't ignore GMB.  It's here and it's just growing more and more; you really do need to get on board.  Being on Google My Business will increase opportunities for you as you become more findable.  Being found equates to more clients and more clients (assuming all other aspects of your business are working properly) equates to more business profit.
If I can assist you with any Business Coaching Brisbane, Queensland or Australia wide – give me a call on 0411 622 666.  My passion is your potential!