These really should not be a secret, and it's out there.  But hey, if I said "15 boring business things you've gotta do" you probably wouldn't have even given this article a second look!  Not that I think any of these is boring; it's exciting when you focus on your business and grow a business which you are proud of, is successful, makes you good money and even creates your legacy.
Here are my 15 Tips for Business Success:
Think big and set ambitious goals
If you think small, you'll go nowhere.  I'm not saying you need to set unachievable goals, but if you don't extend yourself, push yourself out of your comfort zone then you will likely not go too far.  Do you believe the person who says "I want an annual turnover of $90K" will hit $3M in turnover?  Goals should be realistic; a brand new business with a single operator, will very likely struggle to sell millions, but that's not to say you can't plan out your road map to achieve that bigger picture.
Focus
You need to know what you'll be focusing on and then when you focus on something, it's more likely to happen.  Let's say you focus on improving your sales conversion rate.  You'll very likely take steps to provide the best proposal (and I'm not talking just price in this regard) plus you'll actually follow up with people who you've sent proposals or quotes to.  When you focus on an area, you tend to have better success.
Weaknesses are an Opportunity
I don't believe in focusing on the negative, but when you know your weaknesses, you can create an opportunity for improvement.  It may be that you can reduce or diminish that weakness, or put something in place to mitigate it.  Let's say you're hopeless at selling; you can either get someone on board who is great at this or learn to do it better.  If you're in a high-risk industry, then disclaimers and insurance and great internal processes may alleviate that risk somewhat.
Failure is NOT the key to Success
I know a number of coaches and advisors say that failure is good.  I wonder if that's coming from someone who has failed or gone bankrupt themselves.  I prescribe instead to create a business which is sustainable, strong and solid.  Do what is right, rather than accepting failure as part of the process.  Certainly if there is failure, there are two things to do:  1.  Don't beat yourself up – that won't achieve anything more than some bad bruising.  2.  Learn from the experience.  If something doesn't go right, what was the learning?
Planning, Planning & More Planning
We've all heard 'businesses don't plan to fail; they fail to plan' and it's true.  When you plan and outline your goals and action steps for the next year, you know what you're doing.  When you have a marketing plan, you've given your marketing good thought.  When you plan for profit (aka budgeting) this works incredibly well towards business success.  When you have a plan, you (and your team) know where you're going and how you're going to get there – in the straightest possible line.  As an experienced business coach who works with clients all over Australia, I ensure clients don't just plan, but have their action steps AND follow through.
Financial Management
Money does matter.  Everything from calculating margins, break evens, budgets, forecasts, pricing and being all over your weekly and monthly reports.  Being sure you don't let debtors get out of control, or worse, don't even follow up consistently on outstanding accounts.
Market!  You can't sell a secret!
When it comes to business and marketing, don't presume business will just fall in your lap because your doors are open.  We have to market and let people know we exist.  When you don't market, you're keeping your business a secret, and secrets (usually) don't sell.  If you're struggling the very last thing you should let go of is marketing.
Update your Website, Templates, Digital Brochures
Too often we create these things, but then don't update for months, and even years.  Websites especially should be updated often – it not only helps with SEO but also, we need to keep our promotional material current, relevant and the best it can possibly be.  The resources are often the first impression prospects see; so, ensure you put your best foot forward.
Hard Work is Needed
Particularly in the early days, we need to put in the effort and time.  I know early days in my first main business, I worked nights and weekends.  I saw clients at different times; but now after 15 years of business coaching, I don't do after-hour appointments or see clients on weekends.  It's not me being precious; it's purely that I did the hard work then, now I can purely focus on quality delivery.
Operational Excellence
Great systems and processes mean you're consistent, efficient and operate in an optimal way.  This should be documented and all team trained in how things are done.  Do a great job and your customers will not only return time and time again, but will recommend you time and time again.  May I also say, be proactive, rather than reactive; which is frequently brought about by great systems and processes that occur every day in your business.
Hire the Best & Keep Them!
When it comes to your team, you want to have the best people on board.  Then when you get the best, be sure to keep them with having great retention plans.  This isn't just a plan that sits on a shelf, this is how you treat your team, how to communicate with them, look after them and value them.  It's a whole ethos, which starts with exceptional leadership.  If you're a business owner or boss or manager, then be sure to be the best leader you can be.
Put the Customer Second
Sure, you're thinking, isn't it 'put the customer first'?  But business is a cycle.  If the business owner looks after their staff very well and the staff/team look after the customers very well, then the customers will pay and then in turn the money looks after the owner.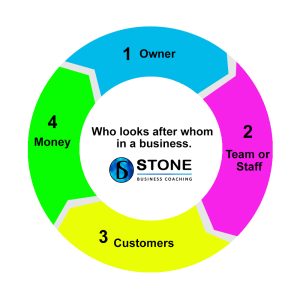 Be an Exceptional Communicator
Whether this is with a prospective new customer, a client you've had for 10 years, a team member or a supplier, being a great communicator will take you a long way.  This is not just about being a good talker, but also listening, being consistent and communicating clearly what you need, expectations others can have of you, what you need, what you're about and so much more.
Be Flexible
Often flexibility is important, as a business, owner, leader and even employee.  When you're willing to be flexible, you open more opportunities and often are able to do better as a business.  However, don't mix up flexibility with scattered or unfocussed or a business that is always willing to do what everyone else wants, to the detriment of the business and the business owner.  You can be super organised, well-planned and still have a degree of flexibility.
Be Willing to Learn and Invest in Yourself
Whether you've been around for 40 years or 4 months, there is always something new to learn.  Business is always changing, marketing changes almost daily and there is always something new to learn.  Invest in yourself to continually learn, grow, expand or improve.  It might be through business coaching, a workshop, training, books, audio or something else.  Be open to learning, improving and growing not only your business but yourself.
Need help with any of the above?  Reach out to me today via Contact Page.