Due for release mid 2017!
If you'd like to reserve your copy, just email me at donna@donna-stone.com.au.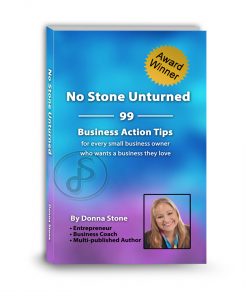 In Donna's sixth business tips book, she shares even more with her readers.   Encompassing money, marketing, sales, staff, processes, customer service and so much more, her 99 concise and practical business tips will give you effective strategies you can implement immediately.   In this book, Donna uses her 30 years of experience and leaves No Stone Unturned when it comes to showing you how to have a business you will love.
$22 (inc. GST) Plus $3 Postage within Australia)
Only $22.00 plus $3 P&H


Don't have a PayPal account? Easy, just download this order form to pay via EFT, MasterCard or Visa. Alternatively, you can email donna@donna-stone.com.au to order a copy.